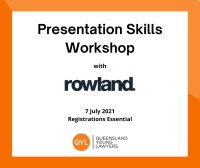 THERE IS NO GREATER 'MOMENT OF TRUTH' THAN THE ONE THAT CONNECTS YOU WITH YOUR AUDIENCE. THE KEY IS MAKING EVERY MOMENT COUNT.
You need imagination and intelligence to bring your story to life, backed by the confidence and conviction to actually tell it. And sometimes that's the hardest part — finding your voice and creating a presence that sets you, and your brand, apart from the rest. 
Rowland's Present With Impact short course is designed to teach you what comes naturally to some. We'll tap into your existing ability and take you to the next level, giving you the skills and confidence you need to deliver memorable and effective presentations. 
We understand communication goes beyond words on a page (or on a screen) and we'll step you through the entire process from preparation, through to content and delivery.  We've thought of everything and packaged it into a short course relevant for lawyers at all levels, no matter your experience or background. 
Present it. Pitch it. Sell it. Inspire them. Find your voice, make sure it's heard and connect to your audience.
About Rowland
For more than 24 years, we have been helping clients connect to their customers and stakeholders with confidence and conviction. With brand, reputation, digital, engagement, campaign and communication services under the one roof, Rowland clients know they can expect innovative solutions that deliver positive business outcomes. We help connect our clients to the people who matter most, telling their stories across digital, visual, written and spoken channels.
Registrations are essential. Lunch will be provided from 12.00pm, with the presentation to commence from 12.15pm.