---
Buy tickets
Ticket Type
Price (£)
Fee (£)
Quantity
---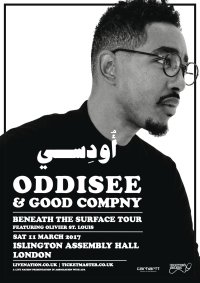 The Doctor's Orders Presents
Oddisee & Good Compny
Beneath the Surface Tour
Featuring Oliver St. Louis
7pm Saturday 11th March 2017
@ Islington Assembly Hall
Upper St, London N1 2UD
Advance Tickets £17.50
The son of Sudanese and American parents, Amir Mohamed was born and raised in the United States capital city of Washington DC, spending hot summers in Khartoum learning Arabic and swimming in the Nile. Growing up amidst the sounds of New York hip hop, his father playing Oud, Go-Go, and gospel, Amir took his first steps as an MC producer in the analog basement studio of his legendary neighbor, Garry Shider (Parliament Funkadelic).
Convincing his entrepreneurial father that he too had business acumen, Amir laid the check from his first commercial release on the kitchen table before his 21st birthday and never looked back. Though Oddisee has gone on to perform with The Roots, produce for Freeway, Jazzy Jeff, Little Brother, De La Soul & Nikki Jean, and has MC'd on production from Flying Lotus, Hudson Mohawke and Kev Brown, his proudest moment was the birth of his critically acclaimed group Diamond District with fellow Washingtonians X.O. and yU.
For this very special event Oddisee returns to London, performing at the amazing Islington Assembly Hall with the Good Compny band. This is guaranteed to be one of the finest Hip Hop nights of the year.