---
---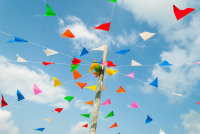 Welcome to Arts in Capri Road!

Create expressive and playful art in this FREE class. We will be learning and building on our basic art techniques, while learning how to express ourselves creatively! Some of the fun lessons we will learn revolve around colour, patterns, everyday objects, and art history. Learn to use as art as a way of self expression in these easy to follow step by step classes!

All materials will be provided at the program. Pre-registration is recommended to ensure your spot; on-site registrations will be accommodated as space allows. The workshops are designed for beginners, you don't need any prior experience.

Dates: Every Wednesday from July 7 - October 27, 2021
Time: 3:00-4:30 pm
Ages: youth ages 9-14


Note: Arts in Capri Road program is specifically designed for residents and community members living in and around the Capri Road neighbourhood in Etobicoke. Participants from other neighbourhoods in Etobicoke and Toronto at large may be accommodated if there is space; however, if we reach capacity, we reserve the right to prioritize the Capri Road participants.