---
---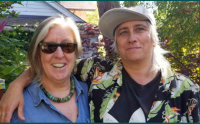 Resisting Vicarious Trauma & Burnout: A Train the Trainers workshop
"The Zone of fabulousness" Connection & Solidarity amidst the heaviness of our work
September 21 & 22,  1 - 4 pm PDT (4 - 7 pm EDT)
Cost: $220 including Paypal and Ticket Tailor processing fees
Contact organizer for reduced cost admissions for community members. Priority to BIPOC and 'peers' people-with-living-experience.

Who should come:
Anyone committed to team/community collective care & capacity building
Team Leads, change agents, folks shouldering up 'first first-responders
Learnings:
Resisting Vicarious Trauma & Burnout with collective care & solidarity
Centering connection, resisting disconnection & enmeshment
Solidarity Teams & Collective care strategies
Responding to Tragic Death
Debriefing with connection
Resources, videos, articles, exercises
VIKKI REYNOLDS PhD is an activist/ therapist working to bridge the worlds of social justice activism with community work/ therapy. Her experience includes supervision and therapy with 'peers' responding to the opioid catastrophe, refugees and survivors of torture - including Indigenous people who have survived state violence, sexualized violence counsellors, mental health and Harm Reduction counsellors, housing and shelter workers, activists and working alongside gender and sexually diverse communities.
Resources for this workshop free at: vikkireynolds.ca
TARA TAYLOR has worked in the non-profit sector for over 15 years and has been a fervent sustainability activist, working and reflecting across multiple disciplines and sectors to develop community systems that promote social justice as well as a balance between community development and community well-being. Most of Tara's work has been done in the DTES of Vancouver, with a focus on harm reduction.