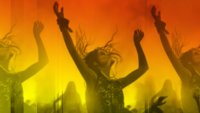 RISE UP presented by HOUSEWORK, SLIPBACK IN TIME, DIRTY STEREO, LUVISM & BACK TO THE OLD SKOOL
ST ALBANS // LONDON
31 JULY 2021 // 12PM-11PM
AN OUTDOOR COMING TOGETHER OF PEOPLE, MUSIC, DANCE AND SUNNY VIBES.
HOUSEWORK & SBIT had the date so let's get a party on . 5 promoters, 3 stages & 1 quality line up.
HOUSEWORK, SLIP BACK IN TIME, DIRTY STEREO, LUVISM & BACK TO THE OLD SKOOL will come together & RISE UP for a full day of hands in the air partying.
When the latest news affected promoters we knew, so close to the day, we put the following to them:
"Lets collaborate and throw the mother of all parties together. One that takes US ALL back to what it is all about – partying in a field, without ego, surrounded by everyone who loves what we ALL do. We can come together and together we all DANCE."
t is safe to say that they juped at the chance, and hopefully you will too.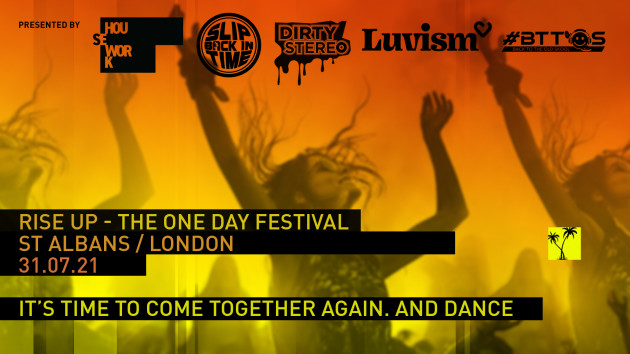 SO WHO'S PLAYING, WHERE IS IT AT AND WHEN IS IT?

Set in the urban wilderness of St Albans. The RISE UP party is big enough to inspire, but small enough to stay intimate – From midday to 11pm three stages play host to the likes of SLIPMATT, K-KLASS, SHADES OF RHYTHM, ALTERN8, MATT MAY, ANDY GALEA, TENACIOUS + over 20 more quality DJs…all gracing the decks as we FINALLY get to deliver a restriction free outdoor party.
There will be a limited VIP offering you priority entry, your own bar and access to your own toilets PLUS a private area – plenty of time & space for you to kick back and relax and chew the fat with friends & some of our headline DJs whilst soaking up the beats.
It's time to experience the great outdoors together - from daytime playtime to raving & misbehaving under the summer stars. On 31st July we get busy with some summertime vibes.
It is going to be 11 hours that get burnt into memory – The day we could dance again. TOGETHER.

THE LINE UP
HOUSEWORK & SLIPBACK IN TIME STAGE
Slipmatt

K-Klass
Shades of Rhythm
Matt May
Paul Reid
Tenacious
Gary Simpson
Louis Millar
Wayne A
plus Mr Stixx Jammin' all day long


DIRTY STEREO & BACK TO THE OLD SKOOL STAGE:

Phil Good & Ram
Andy Galea
Jodi
Mick Turrell
Dave & Ade
Bardo
Sense+
Acid Brothers
Brooksie
Maky
Jack Bass
Dazza B
Lukey P & Franky Mac
Sides & 4Dee

LUVISM STAGE

Altern 8
Roo
Dave Williams
Dave Verne
Paul Myers
Jim Norman & Henry Burrows

This is a back to basic festival. Numbers are limited – so don't hang around. Book the babysitter, and the Monday off work, organise your friends, mark the dates in the diary SATURDAY 31st JULY and get ready for what could be the first party back post LOCKDOWN.
See you there you sexy lot x
TICKET INFO
GENERAL: £35
GROUP TICKET: £110 (Admits 4)
VIP: £50
<TICKET TAILOR TICKET INCLUDE>
THE SMALL PRINT
Covid-19 Update: Due to the daily changes that are happening in our world due to covid-19 the goal posts are constantly moving. We are doing our best to deliver then event we have all been planning. However, official guidelines and restrictions from the UK Governments, as well as Local Councils, may mean hotels, parties / events, locations and services may be subject to change for reasons outside our control. Rest assured we WILL do our best to deliver on our promise, but cannot be held responsible for contributing factors that diminish the experience. We will always be fair with you, our family.
Dress Code: Comfy. Sexy. Dressed as a dinosaur. You are here to have fun…
Age & ID: This holiday is strictly over 25's. Everybody will need to bring ID to gain access
Exclusivity: It is a boutique event. Tickets will be limited. Our advice would be to book early to avoid disappointment.
Wristbands: Wristbands will be supplied for your respective ticket purchase at point of entry.
No Wristbands will be available for purchase on the door. This is a pre-purchase event only.
Security will be on the door to ensure our exclusivity.
No Wristband = No Entry = No Fun
Respect Policy: We ask that all of our guests respect and observe any rules that the venue put in place on the night. These rules are for your comfort and safety, and are in place to ensure you have an unforgettable time.
Onsite Payments: Tokens / cash / card payments are accepted at this venue.
Drugs Policy: The UK has a very strict policy when it comes to drug use… Anybody found not observing this rule may be ejected from the venue and may even be prosecuted.
Remember kids. Just say no.
Refund Policy: We will be working within the Government and local council guidelines to deliver this event. This may mean restrictions on what and how we deliver. Refunds for any tickets purchased directly via HOUSEWORK will only be made if the event is cancelled fully or if a change of date results in you not being able to attend. Refunds will not be given if the event goes ahead with restrictions in place.
Cancellation: SYN EVENTS LTD and any related companies and / or the directors cannot be held responsible for cancelled postponed or altered events or if an artist, act, performer or DJ cancels their performance.
Updates to the Terms & Conditions: SYN EVENTS LTD retain the right to update these terms and conditions.