---
---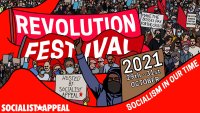 Revolution Festival 2021 is a three-day festival of Marxist ideas, hosted in London by Socialist Appeal, with talks and discussions on current events, history, philosophy, and economics.

Capitalism is facing the deepest crisis in its history, in every country around the world. The collapse of establishment politics has opened the door for revolutionary ideas to gain an unprecedented echo.

This festival will equip us with the necessary tools for fundamentally changing society and seeing international socialist revolution in our time.
Buy your ticket now for this exciting event and join the revolution!