---
---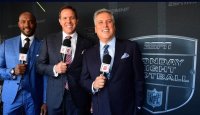 Washington Football Team and FedEX Field will have the center stage on Monday night!!

The shuttle bus will arrive PETCO located at Germantown Commons (12960 Middlebrook Road #520A) in Germantown, MD at 5PM, and will officially depart the PETCO parking lot at 5:20PM. Book your $56.00 round trip seat today!!

The shuttle bus will drop you off at the FEDEX FIELD parking lot, and will remain in the parking lot throughout the entirety of the game. At the conclusion of the game the shuttle bus will return each passenger back to PETCO in Germantown, MD.
For further information, please call 1-888-556-5331.