---
Buy tickets / Join the guestlist
Ticket Type
Price (£)
Fee (£)
Quantity
---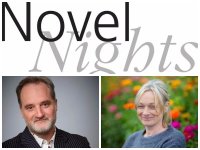 The novelists Martine McDonagh and Stephen May are coming to Bristol to talk about their new novels and will discuss how they approach writing about family relationships.
Martine McDonagh's third novel, Narcissism for Beginners, is published in March 2017. Martine worked for 30 years as an artist manager in the music business (so knows a thing or two about narcissism) and devised and runs the MA Creative Writing & Publishing at West Dean College in Sussex. She has also worked as an editor, proofreader and script consultant. Martine grew up in Bristol and her second novel, After Phoenix, is set there.
Connect with Martine: www.martinemcdonagh.com @MartineM_Writer facebook.com/martinemcdonaghbooks
Instagram: martinemcdonaghauthor
Stephen May was born in 1964 and didn't begin writing seriously until his 40s. His first novel TAG was longlisted for Wales Book of The Year and won the Media Wales Reader's Prize. His second, Life! Death! Prizes! was shortlisted for the 2012 Costa Novel Award and The Guardian Not The Booker Prize. His third novel Wake Up Happy Every Day was published in 2014 and his latest Stronger Than Skin is published by Sandstone Press in March 2017. Stephen has worked as a storyliner for television soap opera, written two textbooks on creative writing and collaborates on performance pieces with theatre-makers, artists, film-makers, musicians and dancers.
Connect with Stephen: www.sdmay.com @Stephen_May1 https://www.facebook.com/stephen.may.378?fref=ts