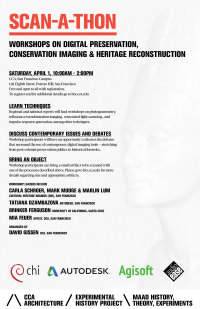 A group of regional and national experts will lead concurrent workshops on the use of digital technologies that can scan, analyze and reconstruct objects of material heritage. Morning and afternoon sessions are identical in content. Participants can register for one morning workshop and one afternoon workshop.
Confirmed workshop leaders:
Carla Schroer, Mark Mudge & Marlin Lum, Cultural Heritage Imaging, San Francisco, CA
Tatjana Dzambazova, Autodesk, San Francisco, CA
Brinker Ferguson, University of California, Santa Cruz, CA
Mia Feuer, Artist and CCA Faculty
David Gissen, Historian and CCA Faculty
Participants can bring a laptop of their own to explore various processes in tandem with workshop leaders. Links to free software downloads, information about potential objects of your own that can be brought for scanning, and additional logistical information will be provided within two weeks of the event.
For all inquiries, contact David Gissen (dgissen@cca.edu)