---
---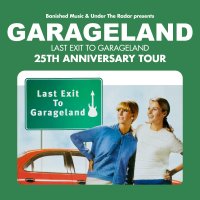 Garageland Returns After Long Exit
Citizens, it's been roughly 9125 days since Flying Nun chart invaders Garageland released Last Exit to Garageland to the world and the band are happy to announce their return. 
Banished Music & Under The Radar presents
GARAGELAND
"Last Exit to Garageland" 25th anniversary tour

Wellington - 29 April / San Fran 
Auckland - 30 April / Powerstation*
Napier - 7 October / The Cabana
Mount Maunganui - 8 October / Totara St
Christchurch - 21 October / Loons
Dunedin - 22 October / Dive

Take yourself back 300 months to 1996 as the band dig into an album that NME described as having "enough catchiness and sonic adrenaline to incite a teenage riot … a collision of Sonic Youth, Pavement and a massive lorry-full of hooks … half Pixies, half-mass-slaughter-of-oxen... bloody marvellous."
Fingerpops, Come Back, Beelines to Heaven, Nude Star will all be played, songs that still sound fresh 219,000 hours later. They will play the whole Last Exit album, Comeback Special EP and then assorted favourites with the original 1996 line up. It's guaranteed to be the highlight of your life.

*Tickets on sale from AAA Ticketing

In the event of show cancellations due to the impacts of Covid-19, ticket holders will be contacted directly and refunded in full from point of purchase.