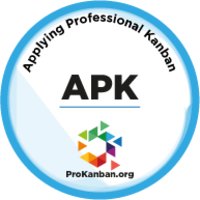 Kanban is fast becoming the modern way to manage an organization's delivery of customer value. In today's always-on environment, you need a clear set of practices that don't get in the way of your ability to continuously deliver but that provides enough structure to keep everyone aligned and focused. This three-day course (3 sessions of 5 hours) will give you an in-depth introduction to improving your team's effectiveness by applying Kanban flow principles.
In this class, you will learn the basic principles of flow and how to use them to make your team process more efficient, predictable, and effective. With an emphasis on the practical application of concepts, this course includes many hands-on exercises that will lead you through the steps of setting up and operating a Kanban system for continuous value delivery and improvement.
This is a live virtual course led by Tolani Hassan & Jennifer Bullock. This course is delivered in 3 sessions of 5 hours each (8AM to 1PM CDT) over 3 consecutive days.
Learning Outcomes
After attending the course, learners will be able to:
Explain the basic principles of flow
Describe the value of WIP limits
Create a visual board to manage your work
Capture and interpret key flow metrics and analytics to find improvement opportunities
Explain why flow should be focused on value delivery
Define, build, operate and continuously improve a Kanban system
Discuss how tooling impacts your implementation
Who Should Attend?
The Applied Professional Kanban course is for anyone who wants to improve their ability to deliver value and be more effective. Typical attendee roles include business analysts, team members, team leads, agile coaches, Scrum Masters, Product Owners, project managers and product managers.
Topics
Kanban theory, principles and practices
Applying Kanban
Workflow design and visualization
How to operate a Kanban system
How to get started
Validated Learning
After taking the course, you will have an opportunity to validate that you understand core Kanban topics. We will invite you to take an online assessment that evaluates your understanding and provides you with guidance on areas to improve. This exclusive assessment is only available to class participants.
Who are your Trainers?
Tolani Hassan is a certified scrum master, coach, trainer and facilitator. Tolani has 12+ years experience in Software and Systems Development. She has experience as a Business Analyst, Scrum Master, Trainer in both public and private sector organisations. Tolani is passionate about bringing agility to the workplace.
Jennifer Bullock is a coach, trainer, and facilitator. She increases team performance and collaboration. Her experience includes helping teams learn Agile, form and build trust and strive toward high performing. Jennifer's passion is helping others continue to grow their own knowledge as well as increase their impact to the organization.
Cancellation
We accept student substitutions or postponements for classes at any time. Student cancellations must be made via email. We provide refunds for student cancellations as follows:
Cancellation received more than 21 days prior to the first day of class = 100% refund of course fee.
Cancellation received more than 10 days prior to the first day of class = 50% refund of course fee
Cancellation received less than 10 days prior to the first day of class = no refund provided.

Should a postponement or cancellation occur, you'll be notified no later than 5 days prior to class. Please reach out with any questions.