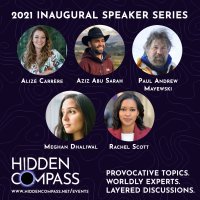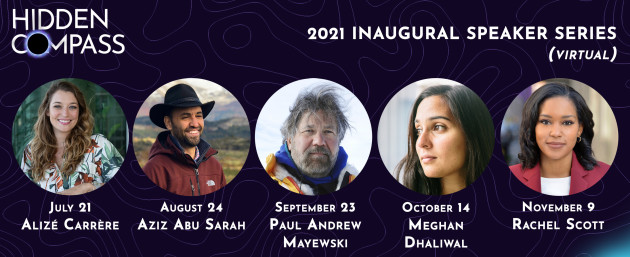 Purchase your 2021 series pass for a discounted rate!
Full Series Description
From July through November, five world-renowned speakers, storytellers, and explorers will present on humanity's most pressing challenges and sit with Hidden Compass's co-founders in nuanced conversation. National Geographic Explorer, filmmaker, and researcher Alizé Carrère begins the series by taking us to Bangladesh, the United States, Vanuatu, and India and giving us a sneak peek of her upcoming PBS docuseries, "Adaptation," for which she is the creator, producer and host. Then, global peace advocate, cultural educator, author, TED Fellow, and entrepreneur Aziz Abu Sarah brings us to zones of conflict — from his hometown of Jerusalem to the more than 60 countries where he has worked as a peace builder — and shows us how socially responsible travel can bridge the divide. Next, internationally acclaimed glaciologist, climate scientist, and polar explorer Dr. Paul Andrew Mayewski leads us through five decades of scientific expeditions that have probed the extremes of landscape and ethics and have led to an age that will define the course of civilization and the future of the planet. Hidden Compass co-founders Sivani Babu and Sabine K. Bergmann will then sit in conversation with Mexico-based photojournalist Meghan Dhaliwal to discuss her challenges reporting at the US-Mexico border, where she has covered breaking news such as the caravans of 2018, family separation, and pregnant asylum seekers for outlets such as The New York Times — and discovered what it's like to be a human covering such gripping and emotional stories. Our final speaker of the 2021 series is ABC Congressional and former White House Correspondent Rachel Scott, who will also be joining us in conversation to explore the crucial and complicated relationship between the press and the public. Scott will reflect on her experiences covering two presidential impeachments, the insurrection at the Capitol, nationwide protests over police brutality, and the COVID-19 pandemic's disproportionate impact on communities of color, as we discuss the erosion of trust facing journalists and her hopes for the future of journalism.
These hour-long talks and discussions showcase how each of these influential speakers align with the Hidden Compass mission: to forge an alliance to turn storytellers and explorers into heroes and champion a new age of discovery. For more detailed information, visit https://hiddencompass.net/events
*Full Speaker Series purchase includes an electronic copy of Aziz Abu Sarah's new book, Crossing Boundaries: A Traveler's Guide to World Peace.
Crossing Boundaries: A Traveler's Guide to World Peace, Berrett-Koehler publishers
In this moving and powerful book, Aziz relates his experiences of creating cross-cultural connections in places like Afghanistan, Northern Ireland, Russia, Venezuela, and Vietnam. Readers discover that travel has the transformational power to heal divides, increase tolerance and make the world a more peaceful place.