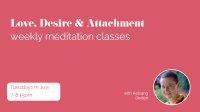 Love, desire, attachment: Discovering our own good heart
Why is it that so often our relationships and interactions with others result in a storm of painful emotions? Why do we feel so much grief when we are separated from those we care for? And why does what appears to be a "perfect match" so often end in conflict? The answer to all these questions can be found within Buddha's teachings on love, desire and attachment.

Gold and diamonds don't come shining, glistening and beautifully-formed like those in jeweller's window. We find them hidden in darkness, misshapen, covered in dirt and rather unattractive – but still they are priceless. Buddha says we are very similar. Beneath our bad mental habits and wrong opinions of ourselves we have something even more precious: our own good heart. We all have the potential to be infinitely loving towards others and to bring real value and meaning into all our lives.
In this series of four classes the teacher will explain how to find genuine goodness within ourselves and how, through meditation, to love and cherish others more deeply. This not only solves many of our daily problems but brings a new sense of worth and confidence into our lives.

13th July – The meaning of love 
20th July – Practical love 
27th July – The Extra Mile
ABOUT THE TEACHER
Kelsang Deden is a Kadampa practitioner and teacher of many years. Known for her joyful heart, loving mind and practical wisdom, Deden's teachings and example will inspire you to relax, open up and discover your happy life!
Before you book! 
Find out more about our membership scheme here https://meditateinedinburgh.or...