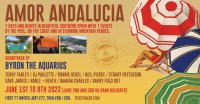 After the success of our trip to Goa in India we are adding beautiful Southern Spain to our roster of events. Seven days exploring the beaches, stunning mountains and lakes or historic cities of Malaga or Granada and seven evenings of the best music you'll ever hear in amazing villas, hotels and beach clubs, the majority of which will be open air. 
We are basing ourselves in the hidden gem of Alhaurin El Grande just 25 minutes from Malaga airport, 20 minutes to the beaches of the Costa Del Sol, 30 minutes to the magical city of Malaga and 45 minutes to the incredible lakes surrounding https://caminitodelreymalaga.com/en one of the most incredible walks you can ever take.   
Most of the events will take place within an easy taxi ride of Alhaurin and if you stay with any our three main accomadation partners listed below you can walk to three of the events as each will be hosting one of our events plus all are offering discount, just simply mention 'Amor Andalucía' and as long as you book for a minimum of four nights you receive that discount. All three restaurants on each beautiful site serve great food as well. Please note we have chosen this week as June 2rd and 3rd are confirmed UK bank holidays in 2022.
We have kept ticket prices as low as possible for year one so you have money left for car hire (if you really want to explore the area) or taxis to some of the events (never any further than 30 mins away). We have extensive knowledge of the area and will be sharing this with all ticket holders including info on some of the best restaurants in Southern Spain that are based around Alhaurin, if you are a food lover this town really is heaven.
There are plenty of private villas and apartments available in the area but below are our three main accommodation partners, where we will be holding one event in each and who are also offering discounts to our customers. PLEASE MENTION 'AMOR ANDALUCIA' WHEN BOOKING ANY OF THE BELOW. 
https://www.alhauringolfhotel.com/en  grupos@playasenator.es
Welcome To Finca La Mota  info@fincalamota.com 
About | El Postillon Rentals (wixsite.com)   elpostillonrentals@gmail.com     
======================================================================================================
Learn a little more about Alhaurin   Alhaurín el Grande - Official Andalusia tourism website (andalucia.org)   /   Tourist guide to Alhaurin el Grande, Malaga, Costa del Sol, Spain (spain-holiday.com)
Nearest beach 20 mins away La Cala de Mijas, Costa del Sol, Spain – Tourist guide, review, map (spain-holiday.com)
Traditional Spanish mountain village just 10 mins away. Mijas - Official Andalusia tourism website (andalucia.org)
And hear what Trip Advisor says about the incredible, varied and amazingly priced restaurants in Alhaurin
THE 10 BEST Restaurants & Places to Eat in Alhaurin el Grande 2021 - Tripadvisor