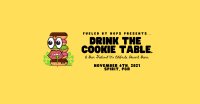 Tickets Now On Sale!
On November 6, 2021, Fueled By Hops is throwing the sweeeetest beer festival in Pittsburgh! (pun intended)
Join us and 20 of your favorite breweries from Pittsburgh and around the nation for Drink The Cookie Table, a two-session beer festival to celebrate dessert beers!  We've also teamed up with some of the most iconic dessert producers in Pittsburgh to create truly unique, one-of-a-kind beers for all of our attendees.   We currently have collabs planned with Sarris Candies, Pastries-A-La-Carte, Oakmont Bakery and more!
Tickets include unlimited sample pours in a commemorative tasting glass (also included with ticket).
Music By DJ Scottro

All the event details can be found at DrinkTheCookieTable.com.
Here's the details you need to know:
Location:
Spirit Hall, 242 51st Street, Pittsburgh, PA 15201 (Lawrenceville) 
Ticket Levels:
Session #1 - $55  (1:00pm-4:00pm)
Session #2 - $55  (5:00-8:00pm)
(Tickets are only good for one session.)
Breweries Attending:
(Brewery list is subject to change)
---
Must be 21+ to attend.
Tickets are NON-REFUNDABLE (but can be transferred to another individual 21+)

FAQs:
What time is last call?
Our breweries will announce last call 15 minutes prior to the session ending.
What do I need to bring with me to the event?
Please bring a VALID ID and your ticket. Also, be sober. We can't let you in if you're visibly intoxicated.
Can I bring someone under 21 with me as my DD?
We do encourage you to be responsible, but nobody under the age of 21 is allowed in to the festival.
Will we be selling merch?
Yep, we will have our glasses and some t-shirts for sale at our merch table. Check our Instagram closer to the event for more info on what merch we will have with us.
Are tickets refundable if we can't make it to the festival?
Unfortunately, all sales are final. Tickets are not refundable. However, they are transferrable. If you'd like to transfer your ticket to someone else over the age of 21, please email events@fueledbyhops.com with "Ticket Transfer" as the subject.
Anything else we should know?
Yes. We hope everyone has a good time, but anyone who gets too drunk and/or acts stupid will be asked to leave the festival.  We also encourage ride-sharing (please do not drink and drive!).
What COVID-19 Protocols will be in place?
The safety of our guests is our top priority. Therefore, we are following all of Spirit's COVID protocols, and plan to fully comply with their guidelines at all times during the event.

As of August 28, 2021, those protocols are:
– Checking temperatures at the door.
– Must provide proof of vaccination (physical card or digital) or negative PCR test (within 72 hours prior to the event) or remain masked while indoors.
-Disposable masks will be available at the door.
--
By purchasing a ticket, you acknowledge that you are over the age of 21 and agree to release Fueled By Hops, LLC and its successors, assigns, partners, and licensees from any liability that may arise from your behavior during or after attending this event.  You also acknowledge that you understand your ticket CAN NOT be refunded for any reason. If you can not attend the event, it is your responsibility to find another individual to take your ticket. Please e-mail events@fueledbyhops.com to transfer your tickets.
Also, we'll have a photographer at the festival taking pictures of everyone having an awesome time. By purchasing a ticket, you also give Fueled By Hops, LLC permission to use these photographs in certain promotional materials in the future.