---
Join the waiting list and get notified when tickets become available

Done! You'll be notified as soon as tickets become available
---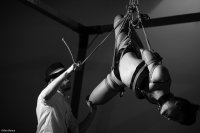 Welcome baaaack!! This is our first Air Time weekend since 2020 and we are beyond excited to welcome you back!

This is the fourth course in our foundational course series created by Anna Bones and Fred Hatt of Anatomie Studio. There are 4 courses in total.

Learn to suspend safely and efficiently with Fred Hatt and Anna Bones in this intensive weekend of rope. The workshop is aimed at both riggers and bottoms. In this full weekend workshop, we will teach participants to how safely suspend & be suspended and introduce suspension transitions.

We will cover: more suspension harnesses (hip harnesses, mermaid ties, futomomos), as well as various suspension & transition techniques for carabiners, ring and bamboo. We will cover some of the 'classic' shapes such as side suspension, face down, inversions and more. The class will be geared toward rigging and bottoming with exercises geared towards developing both sets of skills.
Please note that showing up to this class unprepared puts your model and other participants at risk, so please make sure you meet the pre-requisites!

Who can come to this class? Are there pre-requisites?
This class has pre-requisites for riggers and rope bottoms/models – please make sure you meet these before booking to avoid disappointment on the day:
-Completion of Course 3 gives both riggers and models the necessary pre-requisites for this course.
-Riggers must know how to check for nerve impingement. You must inform your model of the risks of rope suspension.
-Riggers and models must have tied together prior to this class.
-Rope bottoms should be able to be tied in a Takate Kote and be very familiar with the differences between nerve and circulation impingement.
-Models must be able to recognise and communicate signs of nerve impingement to riggers effectively and timely. Models should be able to process pain and take some enjoyment in intense sensations.
What should I bring and what do I wear?

We have ropes you can use during the class and we have a communal kitchenette, fridge and microwave. Tea and coffee are free but you should bring your food and snacks (we have plates and cutlery you can use). People usually wear comfortable clothing like yoga or dance attire. We advise against loose fitting clothing and also jeans can sometimes feel a bit restrictive to move around in and difficult to tie on.

//

For our Covid-19 policy please see here.