---
---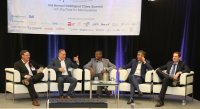 Intelligent Cities Summit - Hybrid Event
The Intelligent Cities Summit is a platform for global municipal leaders and tech provers to congregate and reflect upon opportunities and challenges in making our cities intelligent, liveable, and future-ready. Through panel discussions, keynote presentations and case studies, the summit offers a 360-degree view of building and maintaining cities of the future and the role that technology can play in this process.
‍IoT, Code Orange Summit  - Hybrid Event
Access to reliable and efficient Emergency Services is a crucial factor in ensuring the safety and well-being of citizens. Cohesive and technologically advanced Police Services, Fire Services, Paramedic Services, and other key units are essential pillars in the foundation of a bankable city infrastructure.
People First Summit - Virtual
The People First Summit will bring together government leaders in talent and human capital, along with technology and solution providers to discuss the way forward for the public sector
Why attend?

• Network with leaders across Emergency Services and technology providers from across Canada and beyond
• Gain insight into how technology can help emergency services reach their full potential through discussion on best practices
• Engage in conversation with leaders from various Emergency Service units
• Discover some of the latest tools and technologies that are revolutionizing the field
• Gain access to speakers from Intelligent Cities and the rest of the summits in one ticket