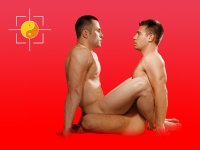 Touch and Massage - And Sex?!...
How do I treat the sexual wishes that clients bring to a session? And if it actually comes to a sexual act: How can I handle it and retain my dignity, without selling my body and soul? How can I ride the wave of sexual energy and not let it overwhelm me too? This Training gives you the know-how!
Topic
Both professional (Tantra) masseurs and massage enthusiasts can profit to a high level from this training. They can consolidate their knowledge of tantric breathing and energy work and let the many energy experiences arising be a source of inspiration.
The Training can be attended for professional further development or out of private interest. In combination with a paramedical basic training (e.g. hydrotherapist, masseur, naturopath, doctor) or a registered business (e.g. wellness provider, sex worker), the Tantra-Ecstasy Masseur is entitled to offer his services for a fee.
Training Objective
After completion of this training, you are able to acquaint your massage guests and clients with tantric energy circles and to give them a taste of the high art of tantric lovemaking. You learn already through preliminary contact to evaluate your guest and to offer the right way of meeting, which will give yourself and your guest the highest amount of pleasure and contentment.
In contrast to the GAY-TANTRA 'Tantra Masseur' (certified) training and the 'Tantra-Energy Masseur' (certified) training you do not learn any other new ways of massage or stimulation. You learn to establish a deeper and more intimate contact with your guests, beyond that of an escort.
Training Qualification
The GAY-TANTRA 'Tantra-Ecstasy Masseur' certificate with Armin Heining is awarded after a successfully conducted oral and practical examination.
This certificate, with which the holder can actively advertise his enhanced qualifications on his website, the social media and other profiles, attests the quality of his Tantra Ecstasy Massages and distinguishes him from the mass of (Tantra) masseurs.
Course and Contents:
The Tantra Energy Circles are an excellent support for awakening sexual potential and integrating it with the whole personality in its most varied aspects and for sharing with partners.
Part 1: Introduction and preparation
(01. - 02.07.2023, seminar house "Oranienhof")
Theory:
Escort versus Tantra-Ecstasy Masseur?
The Tantric Energy Circles - what are they?
How do I redirect energy through the body? What tools are available to me?
Psychological traps in dealing with Tantric Energy Circles
Practice:
Awakening the Chakra Energy Centers


Part 2: Own experience of the tantric energy circles
(03. - 09.07.2023, seminar house "Oranienhof")
Theory and Practice:
Emotional and physical preparation
Creating sexual energy with multiple, orgasmic genital stimulation
Energy connection with the Bonding Wave
Energy connection with the Butt Wave
Induction of a transpersonal, tantric experience
The U-Breath Circle
The O-Breath Circle
The Wave of Bliss


Part 3: Supervision
(10. - 12.07.2023, "Care & Share", Berlin)
Theory:
How do I present myself as a Tantra-Ecstasy Masseur in public?
How do I present my range of services?
Conversation before and after the experience
The course of a meeting with Tantra Energy Circles
Documentation of the session
Practice:
Experiencing Gay Kamasutra basic postures
Carrying out Tantric Energy Circles


Part 4: Own independent practice of the Tantric Energy Circles (until 29.11.2023)
Ten documented Gay Kamasutra meetings with acquaintances, friends or guests


Part 5: Tantra-Ecstasy Masseur - certification
Theory:
Oral examination via Skype (thirty minutes by prior appointment)
Practice:
Discussion of the practice documentation (thirty minutes by prior appointment)


Preparatory and Accompanying Media:
Participants will receive these three GAY-TANTRA Ecstasy Films and various other study and information films (value about EUR 45) after complete registration as download for free.
The 'GAY-TANTRA Tantra-Ecstasy Masseur (certified) Training Program Study Guide', a comprehensive manual that immerses you in the unique GAY-TANTRA energy circles and other important related topics, allows you to get the most out of your GAY-TANTRA training! The Program Study Guide (value about EUR 45) is available exclusively to training participants and is not available elsewhere!
Additionally books and DVDs can be bought during the training on site.
Organizational Details
Description:
The training for 'Tantra-Ecstasy Masseur' (Part 1 & 2) takes place at the seminar house "Oranienhof", Rehmater Weg 1 A, 16515 Oranienburg OT Zehlendorf. The small seminar house is integrated on a horse farm with approx. 25 horses 40 km north of Berlin, idyllically located between Wandlitz and Liebenwalde. Our location can be reached in about 60 minutes by public transport from Berlin Central Station (train stop "Wensickendorf"; car pick-up from there).
Part 3 of the training will be at Care & Share, Welserstr. 5-7, 10777 Berlin. The bright and friendly rooms are located in a central and quiet area in Berlin-Schöneberg, not far from the Viktoria-Luise-Platz (U4).
Schedule:
The beginning of the training is on Saturday, 01.07.2023 at 18 h in the seminar house "Oranienhof". The individual training days usually start at 07.30 h with a meditation in the morning and ends - with several longer and shorter breaks during the day - usually about 22.30 h.
On Sunday, 09.07.2023 we travel to Berlin, where the training continues on Monday, 10.07.2023 in the rooms of "Care & Share".
The end of the practical training is on Wednesday, 12.07.2023 around 20 h.
Seminar languages:
German and English
Accommodation/Meals:
For part 1 & 2 of the training we will stay at the seminar house 'Oranienhof', Rehmater Weg 1 A, 16515 Oranienburg OT Zehlendorf. To use the seminar room, large lounge / living room with dining room, terrace and garden, the total fee is EUR 280 for overnight stay in a double room.
To increase the group spirit and cohesion, we organize the meals ourselves and prepare it together. Typically there are costs of around EUR 100 per person. These amounts are to be paid on site.
The accommodation in Berlin from 10 to 12.07.2023 has to be organized in advance by yourself: You may stay at home or in a hotel.
Sleeping in your own sleeping bag is possible for EUR 25 per night at our venue. You might want to bring your own food or eat out in a restaurant nearby.
Important notices:
This training is no substitution for psychotherapy, self-experience, personality training, or sexual or spiritual development! It is assumed that the participants possess a certain mental and physical durability, and are open sexually and spiritually (natural mindset towards nudity, touch, also deep sexual touch, openness towards active and quiet meditation). If necessary, talk about your participation with the educator prior to registration!
Fee of participation:
The fee for 'Tantra-Ecstasy Masseur' training amounts EUR 1.890, payable in one amount or - on request - in two instalments (50 per cent on the date of the written enrolment; 50 per cent one month prior to the beginning). Please contact us via E-Mail! This fee covers all costs for seminar hours and materials.