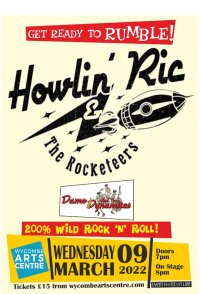 Leeds-based Howlin' Ric & the Rocketeers play vibrant and authentic rock and roll, roving from raucous rhythm and blues right through to dreamy popcorn love songs. Wailing vocals, virtuosic sax and biting, grooving guitar will have the audience bouncing, swinging and sweating from start to finish.
After forming as a trio in 2016 their debut releases, Cannonball EP and Tears Before Bedtime EP, were championed by BBC Introducing and UK Rock and Roll Magazine. In 2018 the band expanded the line-up, adding saxophone and drums to the already rocking guitar and bass rhythm section.
Their debut album, Waiting By The Dance Floor, was released in 2019 and is a product of band leader Richard Colley and his life long love of Rock 'n' Roll, Rhythm & Blues and Rockabilly. Over recent years he has immersed himself in the new great roots artists such as Nick Curran, The Bellfuries, JD McPherson and the amazing bands that have been coming out of Hi-Style Records but not before refracting the sound through his record collections, drawing on classic Rock 'n' Roll and Rhythm & Blues.
Since the release, they have set their stall out as a hard-touring outfit, headlining shows across the UK as well as performing at a multitude of festivals including Rhythm Riot, Atomic, Underneath The Stars, SummerTyne Americana, Great British Rhythm and Blues and made lauded debuts across Europe in Belgium, Holland, Germany, Austria and Italy.
Howlin' Ric & the Rocketeers deliver an exciting take on a great American tradition. Presenting original Rock & Roll and Rhythm & Blues with a classic and fresh sound and are back in the studio recording their next album, for release in 2022.


Supported by Damo and the Dynamites
Damo And The Dynamites is a classic rock 'n' roll and rockabilly outfit, formed in London during 2018, with a repertoire of the best dance music from the 1950s and 60s, more recent revival stuff from the 1970s and 80s, and a sprinkling of original songs. They use the classic three-piece line-up: a box guitar and a double bass with drums driving them on. The band released their first EP, 'Just Out Rockin'', in March 2021.
Facebook: https://www.facebook.com/DamoAndTheDynamites
YouTube: https://www.youtube.com/channel/UCPV6QAb2Pu-7dhX3hwgqohg
Instagram: https://www.instagram.com/damoandthedynamites
Twitter: https://twitter.com/DamoDynamites
Vimeo: https://www.vimeo.com/damoandthedynamites