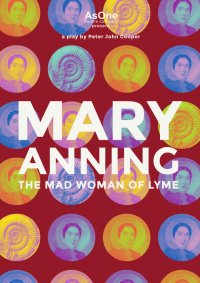 Darwin said he stood on her shoulders

Written for AsOne by Peter John Cooper, Directed by Marta Vella and Produced by AsOne Theatre Company.

It is 1846, and the little town of Lyme Regis is battered by howling winter-gales. Dying and increasingly dependent on laudanum, fossil hunter, Mary Anning reflects on her life. By challenging the status quo whilst making remarkable strides in a male dominated scientific world, her work threatens to disprove the very foundations she was raised on. Haunted by hallucinations of friends, enemies and even the creatures she spent her life hacking out of the living rock, Anning tries to make sense of her existence in her last moments. AsOne bring their signature magical blend of narrative, movement, music and visuals to tell this true story about legacy and coming to terms with the past.
"Instructive, thought-provoking and enjoyable. Quite a combination!" -Minette Walters, Author, on Passion 2014

"A theatrical treasure of the future" - Marion Cox, Dorset Echo, on She Opened the Door 2010

"A daring and provocative production" - Chris Aziz, audience member, on Escaping the Storm 2019
Approx run time 1.5hrs
All tickets include a £1 admin fee.
All purchases for show at the Alma now have a suggested donation to the theatre and inhouse company of £2.00
You can remove this donation by changing the amount to £0.00, but please do consider offering your generosity to help us continue to offer great theatre at affordable prices.
The Alma Theatre has been serving the community for 25 years and has never been the recipient of ACE or other funding. Our theatre manager started maternity leave as the pandemic hit and as a result we missed all opportunities for additional arts council support. We have been offering reduced rates, preferential box office splits and extended promo support to aid the recovery from the past year and a half. Your help will enable us to continue bringing fantastic stories to your local theatre. 50% of your donation will go to the Alma Theatre, and 50% to our inhouse company, Schoolhouse Productions.