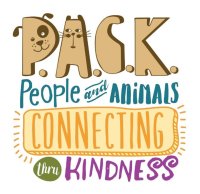 People and Animals Connecting Through Kindness (P.A.C.K.) is a group where young people ages 12-14 come together in a supportive environment to share their love for animals and build valuable social skills. The group will explore topics such as self-confidence, relationship building, compassion and of course, as young people would say, dealing with all the "feels."
Each of the 8 sessions will meet for 90 minutes and will include skill building activities, adoptable animal interactions and more! For questions, please email humaneed@hshv.org.

Dates we will meet (we ask that participants do their best to attend all):
Thursdays – September 16th, 23rd, 30th, October 7th, 14th, 21st, 28th, Nov. 4th 
Time: 4-5:30 p.m.
Fee: $85 per person
Pre-registration is required and space is limited to 12 participants.


Instructors:


Cōlleen O'Brien, LMSW
Social Worker, Pet Grief and Loss Therapist, Community Builder, Facilitator
Cōlleen is an expert at creating creative therapeutic interventions to support individuals, families, and groups as they deal with everyday life. Clinical training and personal dedication have led her to focus on the complex issues of organization, goal planning, trauma, grief, and loss. The founder of Washtenaw County's first Pet Grief and Loss Support Group Cōlleen has dedicated her professional practice to supporting people through the loss of the beloved animals in their lives. Caring for two amazing little Chihuahuas helps Cōlleen keep everything moving in the right direction.
Karen Patterson, M.Ed.
VP of Volunteers and Humane Education, HSHV
Karen Patterson is a life-long animal lover who has a passion for education and animal welfare. Teaching others about showing kindness and compassion for both animals and humans is her passion in life and is the inspiration of her first published book, Harley Saves the Day. Karen has ten years of formal teaching experience in the classroom and has since worked with students and teachers throughout Washtenaw County in her role at HSHV. She holds a Master's of Education degree (in humane education) and currently serves on the Board of Directors for the Humane Education Coalition. Karen currently lives in Chelsea with her son and four furry kids.