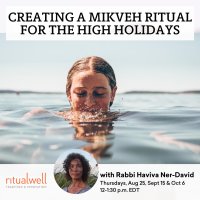 Group sessions: Aug. 25, Sept. 15, Oct. 6, 12–1:30 p.m. EDT
With two one-on-one sessions with Rabbi Haviva to be scheduled in between
$250
"Immersion is the equivalent, at the human level, of death at the cosmic level, of the cataclysm (the Flood) which, periodically dissolves the worlds into the primeval ocean. Breaking up all forms, doing away with the past, water possesses the power of purifying, of regenerating, of giving new birth... Water purifies and regenerates because it nullifies the past, and restores—even if only for a moment—the integrity of the dawn of things."
—Mircea Eliade, The Sacred and the Profane
Full body immersion in the living waters is a timeless spiritual practice with universal appeal. In the Biblical Creation narrative, God births our dualistic world into existence from the Divine womb filled with the primordial waters, but leaves us the mikveh, the gathering together of these waters to experience the unity that existed before Creation. The mikveh ritual is an invitation to immerse our entire bodies in these "living waters," like a fetus returning to the womb, and reconnect with our most essential selves. During the month of Elul that precedes the Jewish New Year, we take stock of the year that has passed and our experience of it. The tradition of immersing in a mikveh—whether natural or human-made—before Rosh Hashanah or Yom Kippur is as relevant today as it was in generations past. And creating a personalized ceremony for the ritual is a way to infuse this tradition with special meaning.
In this mikveh workshop, Rabbi Haviva Ner-David will lead three group sessions and two private sessions per participant, in which we will learn about the deeper meaning of mikveh and create individualized mikveh immersion ceremonies to be done before the High Holidays. In the group sessions we will study classic and modern texts and learn about the exciting reclaiming and reframing mikveh movement. In the individual spiritual companionship sessions, Rabbi Haviva will meet privately with each participant to create individualized kavannot (sacred intentions) for their private immersion ritual, which will take place at each participant's locale (in either a natural or institutional mikveh, or at home in a bath or with a cup of water for handwashing instead). The group will then come back together after the High Holidays to share about our experiences.
Rabbi Dr. Haviva Ner-David is the rabbinic founder of Shmaya: A Mikveh for Mind, Body, and Soul, the only mikveh in Israel open to all to immerse as they choose. Ordained as both a rabbi and an interfaith minister, certified as a spiritual companion (with a specialty in dream work), and with a doctorate on mikveh from Bar Ilan University, she offers mikveh guidance and spiritual companioning for individuals and couples, as well as mikveh workshops and classes for groups. Rabbi Haviva is the author of three spiritual journey memoirs and a novel. Her most recent memoir, Dreaming Against the Current: A Rabbi's Soul Journey, is about her journey into interspirituality and dreamwork. Her two previous spiritual journey memoirs are titled: Chanah's Voice: A Rabbi Wrestles with Gender, Commandment, and the Women's Rituals of Baking, Bathing, and Brightening, and Life on the Fringes: A Feminist Journey Towards Traditional Rabbinic Ordination, a runner up for the National Jewish Book Council Awards. Hope Valley, her debut novel, is about the friendship between a Palestinian and a Jewish woman in Galilee, where Haviva lives. She is also the mother of seven and lives with FSHD, a form of muscular dystrophy, which has been one of her greatest teachers.
All sessions will be recorded and sent to participants. We encourage live attendance for you to get the most out of the experience.
About Ritualwell
Ritualwell is the most extensive online resource that curates original Jewish rituals for Jews and fellow seekers. We publish rituals, ceremonies, prayers and poems to mark sacred moments in Jewish life. Through creating and sharing rituals, hosting Ritualwell Immersions (online learning experiences), curating an online Judaica shop and hosting Rabbi Connect, Ritualwell fosters a supportive environment for Jewish creativity, spiritual growth and discovery. Learn more at www.ritualwell.org.
Ritualwell is committed to offering an accessible space to our community members. We commit to:
Providing participants with all the session materials ahead of time
Providing automated captions on all live sessions
Providing subtitles for all recorded sessions
Using the chat function and read it aloud during the sessions
Asking for participant accessibility needs and doing our best to accommodate them. Please feel welcome to contact us at ritualwell@reconstructingjudaism.org.