---
---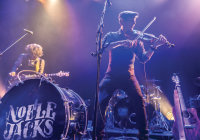 With the fiddle leading the charge, Noble Jacks are out to take no prisoners with their high-energy footstompin' rhythms which have taken crowds by storm across the UK. 
A fiddle driven thrill ride, the band set out to capture the raw energy of their notoriously hectic live shows including major festivals such as Glastonbury, Isle of Wight and Bestival, plus major European festivals.
Hailed as the finest purveyors of folk-influenced Americana, the duo showcased at the Americana Fest in Nashville where they went down a storm!
"Their music is just the kind of sonic elixir we need in these troubled times." ACOUSTIC MAGAZINE
"An explosion of insurmountable energy and brilliantly catchy riffs."
ON THE BEAT