---
---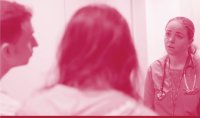 We would love to welcome you to join one of our upcoming VITA Interactive Webinar sessions on Safeguarding Victims of Modern Slavery. 
This two-hour interactive webinar will cover modern slavery human trafficking and the health impact, equipping you with knowledge, confidence and transferable consultation skills to safely identify, support and safeguard victims and survivors of this crime.

The webinar is highly interactive and engaging. A realistic video scenario allows you to visualise and discuss applying trauma-informed consultation skills in very complex and realistic scenarios, in a safe learning environment with small group discussion and feedback.

This training is for:

- Clinicians/Healthcare Professionals who consult with patients/clients
- Anyone whose clinical role requires at least Level 2 Adult Safeguarding.
VITA Adult Safeguarding Level 2 and CPD certificate given.
Book now to reserve your place!