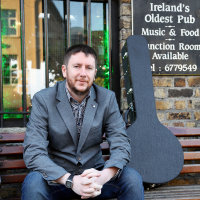 TITLE: Daoirí Farrell: Irish Songs Session
DATE: 14th - 17th July 2022 (4 days)
PRICE: £395 (deposit to secure place £150)
LED BY: Daoirí Farrell
VENUE: Stones Barn (and Stapleton Hall) CA6 6PW
PARTICIPANTS: Maximum 30
***£150 IS THE DEPOSIT PAYMENT ONLY. This will secure your place on the course. We will ask you to pay the balance some weeks before the course start date***
THE COURSE LEADER: A former electrician, who decided to become a musician after seeing Christy Moore perform on Irish TV, Dublin-born traditional singer and bouzouki player Daoirí (pronounced 'Derry') Farrell has been described by some of the biggest names in Irish folk music as one of most important singers to come out of Ireland in recent years. He sing and plays bouzouki with great finesse but also great energy. He studied music at various colleges and the University of Limerick. His long-awaited follow-up album to 'The First Turn', 'True Born Irishman' was released in October 2016. The following spring he won two BBC Radio 2 Folk Awards – Best Traditional Track and Best Newcomer – and performed with a six piece line-up at the awards ceremony at London's Royal Albert Hall. He has since performed all over the world.
COURSE CONTENT: Daoirí will teach you some important and influential traditional songs and perhaps some of his own original material. You will then go on to perform together in a session-like situation in a local venue on the Saturday evening. There will be less emphasis on individuals doing 'turns' and more on having a shared repertoire to perform altogether. Although it wouldn't hurt to have a song or two prepared which everyone might already know or could learn on the spot.
WHO IS IT FOR?: Absolutely anyone who loves or is curious about singing Irish Traditional Music. There is no need to read music for the singing aspects. If you would like to play an instrument to accompany or play tunes then this will require an intermediate level of ability on your chosen instrument and also either the ability to pick tunes up quickly by ear or the ability to ready music relatively well.
LEARNING OUTCOMES: Some new Irish songs to add to your own song folder, a rip-roaring good time, new friends and lots of lovely food.
FOR MORE INFORMATION:
https://stonesbarn.co.uk/contact-and-faq-s
https://stonesbarn.co.uk/timetables
https://stonesbarn.co.uk/cancellation-policy
https://stonesbarn.co.uk/risk-assessment
info@stonesbarn.co.uk 01697748424