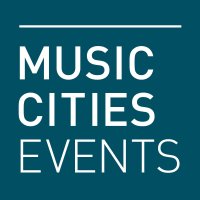 Music Tourism Convention is the world's largest & most extensive conference exploring the value of music to tourism and destination branding

Date: 11-14 April 2023

Main Convention Venue: Lyric Hotel, 1300 Hwy 8 West,Cleveland, MS 38732, United States
Hosts: Music Cities Events, City of Cleveland Mississippi and Visit Mississippi

Theme: Building Global Communities Through Music Tourism

A place's rich music tourism offer can not only attract visitors and drive economic development, but also build strong communities, attract investment and encourage people to relocate. If a town or city has a focus on music, from promoting its heritage to encouraging a vibrant music scene to develop, then opportunities for growth and a renowned sense of belonging will develop and a new networks of fans, companies and organisations emerge. These dynamics will be the overarching theme of the sixth global Music Tourism Convention.

Schedule:
11th April 2023 - Opening Reception @ The GRAMMY Museum® Mississippi
12th April 2023 - Main Convention Day 1 @ Lyric Hotel, Cleveland, MS & evening event @ Dockery Farms
13th April 2023 - Main Convention Day 2 & Happy Hour @ Lyric Hotel, Cleveland, MS
14th April 2023 - Full day of music tourism. We'll be showcasing some of the best music tourism sites that the Mississippi Delta has to offer, from the BB King Museum & Club Ebony in Indianola to Morgan Freeman's Ground Zero Blues Club in Clarksdale (limited capacity).
15th-16th April 2023 - Juke Joint Festival in Clarksdale
Who should attend?
Delegates will range from: Mayor, Director of Tourism, Musician, Head of Marketing, Festival Director, Professor, Director of Conventions & Marketing, Head of Programming, Creative Director, Product Manager City Tourism, Council Chief Executive, Music Industry CEO and MD, plus many more from the tourism and music industries, government and academia.

Ticket Cost:
Tickets include 3x evening events, 2x days of talks, 1x day of music tourism (limited capacity) plus some food and drinks.

Early Bird 1: Until December 31st 2021: $200 USD
Early Bird 2: January 1st - July 15th 2022: $250 USD

Early Bird 3: July 16th - November 30th 2022: $300 USD
Early Bird 4: December 1st 2022 - February 28th 2033: $350 USD
General Admission: $400 USD 
Student Ticket*: $65 USD
*Offer available only to students at an accredited higher education institution.
#MusicTourismConvention

- - -

Read more on our website:
https://www.musiccitiesevents.com/cleveland-mississippi-mtc
View the video from our last edition in Liverpool, UK:

Music Tourism Convention is a part of Music Cities Events.