---
---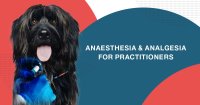 Whether you are running the anaesthetic or keeping your left eye on it while your right eye is focusing on the surgery at hand, it is important to understand and feel confident about what you see. Do you have the knowledge to appropriately direct your nurse/tech?
There are so many differences between breeds, ages, and cats verses dogs. Let alone the more critical emergency anaesthetics. When the alarm starts beeping and your patient looks adequately anaesthetised, it can make for an incredibly stressful event. What do you check first?
Join anaesthesiologist Dr Margie McEwen online for six weeks as she delves into the practical knowledge of small animal anaesthesia and analgesia. Each week focuses on a different topic, and the flipped classroom style will get you thinking and engaging. Margie will share her top tips from her years of experience to help you become more confident with your next anaesthetic.
VetPrac, the whole experience!