---
---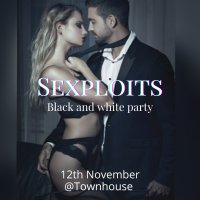 We invite You to sexploits black and white party at townhouse on the 12th of November. It's a Friday night singles event and will be a good party night if you know me I love my shots so I'll be walking around with free shots 😉
The theme of the night is "black and White Party". So get your Black, white or even both outfits and negligee out. The classier the better. This is a singles night so everyone is welcome. This night would be perfect for couples who play separately. There's no age limit for this event.
Townhouse has amazing facilities We have 4 floors of fun for you to explore!!! We have a good mix of large group play rooms, private rooms and dungeons, jacuzzi and sauna.
For those who will be visiting townhouse for the first time there will be a tour available.
you can grab a drink from our well stocked, licensed bar, meet new friends, catch up with old friends or simply people watch. Our friendly bar staff will ensure that you feel at ease from the moment you walk through the door.
Single Male members £25
single Male Non members £30
Couples - £20
Ladies -£10
Tv/Ts - £10
As this event is in November just check the townhouse website for the latest covid policy's.