---
---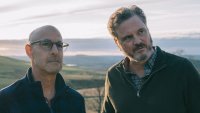 Welcome to Oakwood Cinema - the independent community cinema for Oakwood and Roundhay in Leeds! Oakwood Cinema is a not-for-profit community cinema showing a film each month, with a licensed bar and snacks to make the night an enjoyable social event for all!
Our film for November is Supernova (cert 15).

THE FILM
Supernova was released earlier this year to excellent reviews - but like many recent films it was somewhat lost in lockdown. It is a sensitive and beautifully crafted depiction of an aging and long-standing couple and how they deal with one of them getting early onset dementia. The couple are played by two very familiar actors - Colin Firth and Stanley Tucci - who are good friends off screen and have acted together previously. This is perhaps why their performances appear so genuine and subtle, as opposed to showy or pretentious; the relationship feels real and grounded.

Supernova is also, in a sense, an English 'road movie', taking the protagonists off in a camper van to the Lake District, which is beautifully shot by Mike Leigh's cinematographer Dick Pope. But the beautiful backdrop plays second fiddle to an intimate portrait of love, loss and what we leave behind.

Ian Freer in Empire magazine wrote: "Supernova is a tender two-hander that gradually crushes your heart. What it lacks in cinematic width it gains in well-earned emotional depth, courtesy of delicate writing and two subtle but towering performances from Firth and Tucci."

TICKETS 

Tickets are just £5 for everyone.  (We are no longer offering memberships.)
A booking fee is applied to cover the bank processing fee for purchasing online tickets.
The main doors open at 7.00pm.  The film starts at 7.30pm. (Interval drinks are available.)