---
---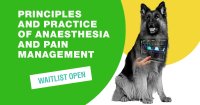 Join Margie for a six week online skill building, confidence boosting practical approach to anesthesia and pain management.
Broaden your understanding and practical knowledge of how to manage a wide range of patients. Dr McEwen will explore the options for pain management and how they affect our canine and feline patients. Better equip yourself to recognise the positive and negative changes so you can effectively and efficiently alert other members of the animal care team if needed.
Even monitoring an anaesthetic can be worrisome at times, especially when the patient is not that six month old in for a routine spey. Gain a better understanding in how you can monitor, adapt and overcome some aspects of the more challenging scenarios that patients bring to an anaesthetic. From geriatric pets to brachycephalic breeds and felines.
Register today and have a direct impact on the quality of care you can bring to your team.
VetPrac, the whole experience!