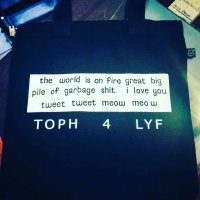 IKLECTIK and TOPH presents,
Mariam Rezaei / Tommy Sissons [NEW DATE!]
FRIDAY 10 DECEMBER 2021 | 8:30pm (8pm doors)
Tickets: £12 Early Birds / £15 General Admission
TOPH presents award-winning poet and writer Tommy Sissons ('A Small Man's England', Repeater Books). Accompanying him is Mariam Rezaei (TOPH/TUSK Fringe), who will debut her new album 'BOWN' on two turntables. Expect an evening of slamming sounds, piercing words, luminous nails and zero bullshit.
Event produced by IKLECTIK

Tommy Sissons
Tommy Sissons is an award-winning poet, political writer, playwright, educator and the literary editor of GRASS Magazine. His debut polemic, 'A Small Man's England', was published in 2021. He has toured his performance poetry across Europe and worked as the poet-in-residence of Channel 4's TV series Four to the Floor.
Mariam Rezaei
Mariam Rezaei is an award winning composer, turntablist and performer. She leads experimental arts project TOPH in Newcastle. TOPH curate a regular series of concerts #SWARM along with an annual TUSK FRINGE for TUSK Festival. (tuskfestival.com) (repeater-radio.com/swarm). Recent releases include 'SKEEN' on Fractal Meat Cuts (fractalmeat.bandcamp.com/album/skeen), 'The End of The World…Finally' with Sam Goff on Cacophonous Revival Recordings ( cacophonousrevivalrecordings.bandcamp.com/album/the-end-of-the-world-finally) and 'Veil', a collaboration with Stephen Bishop on TUSK Editions (tuskfestival.bandcamp.com/album/veil). A new duo release with opera singer Alya Al-Sultani is due for release in September 2021 on Takuroku.
Mariam presents a podcast on contemporary turntablism called 'These Are The Breaks…' and is guest DJ on' Radical Scotland' by Stewart Smith, both on repeater-radio.com. 'BOWN', the third album in the triptych 'BLUD : SKEEN : BOWN,' is due for release, late 2021.