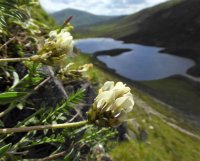 This year's Annual Exhibition Meeting and AGM will be held online, with the AGM and introductory talks on Friday 19th November 6-8pm, and the Exhibition Meeting on Saturday 20th November 10.45-15.45pm. The event will be hosted on our dedicated AEM website, aem.bsbi.org, and will feature a mixture of live and pre-recorded talks, virtual exhibits, a panel discussion and book sales via Summerfield Books. 
You can book for either or both events, and full information on how to join your chosen event(s) will be sent to you ahead of time. Attendance is free, but donations are welcome towards the charitable work of the BSBI. The event is open to everyone, whether or not you are a member, but booking is necessary.
Draft Programme: 19th November
18:00 Welcome - Lynne Farrell (BSBI President)
18:05 Building a botanical crystal ball: using BSBI records to model possible futures in the fight against climate change and biodiversity loss - Simon Smart (UK Centre for Ecology & Hydrology)
18:30 Findings of our first members' survey - Sarah Woods (BSBI Fundraising Manager)
18:45 Roots and shoots: my first six months as BSBI's CEO - Julia Hanmer (BSBI CEO)
Draft Programme: 20th November

10:45 Welcome/ introduction to the day: Sandy Knapp (BSBI trustee)
11:00-12:00 Session I: Talks: Disseminating information to drive a passion for plants
Chair: Ciara Dwyer (BSBI Events & Communications Committee)
11:00 Beginners' Wildflower ID crib sheets for Wild Flower Hour - Moira O'Donnell (Events & Communications Committee)
11:15 BSBI Handbook on Broomrapes - Chris Thorogood (co-author & illustrator/ Deputy Director and Head of Science at the University of Oxford Botanic Garden and Arboretum
11:30 Plant hunting through the seasons - Leif Bersweden (author of 'The Orchid Hunter')
11:45 Flash talks from exhibitors.
Lunch 12:00-13:00: View exhibits and/ or join a break-out room and chat with fellow botanists.
13:00 – 14:00 Session II: Panel discussion: How do we build a diverse community of botanists?
Chair: Sandy Knapp (BSBI Trustee)
Barriers to including marginalised groups in environmental activities – Mark Hutchinson (Vice-Chair, Sheffield Environmental Movement) tbc
Botany and the visually-impaired - Falgunee Sarker
Working with farmers and members of the public: from BSBI outreach to NPWS farm plans - Maria Long (Grassland Ecologist, National Parks and Wildlife Service)
Engaging the next generation: thoughts from an 18-year old BSBI member - Billy Fullwood
14:30 - 15:45 Session III: Talks: How BSBI data & interpretation are helping to address biodiversity loss & climate change
Chair: Kylie Jones (BSBI Events & Communications Committee)
14:30 Forecast: a diary of the lost seasons featuring data from BSBI's New Year Plant Hunt – Joe Shute (author & journalist)
14:45 The Tree Toolkit to guide conservation & land management (using BSBI data & interpretation) - Jay Doyle (Forestry Commission) tbc
15:00 How BSBI data help the National Trust - Mark Gurney (National Trust)
15:15 How Natural England uses BSBI data - speaker tbc (Natural England)
15:30 Award of Presidents' Prize - Lynne Farrell (BSBI President) and Thank You - Julia Hanmer (BSBI Chief Executive)
Exhibitors

We welcome exhibits on any aspect of the British or Irish flora, especially from first-time exhibitors, and we can help you put together and upload your exhibit, which will be displayed on our dedicated AEM website: aem.bsbi.org, accompanied by an optional 1-minute 'flash talk' and, should you wish, contact details and links to your website, social media etc.
If you are interested in exhibiting this year, please visit aem.bsbi.org/exhibitor to find out more or you can email us at meetings@bsbi.org if you wish to discuss a possible exhibit or if you need assistance or advice.
Exhibits will be freely available to view throughout the day and as part of a virtual exhibition after the event ends. Last year's exhibits can be viewed here: aem.bsbi.org/exhibits
Summerfield Books

Summerfield Books' pop-up bookshop is a regular feature at the Annual Exhibition Meeting. This year we will have a short video from them, telling us about their most exciting recently-published books.
Personal details
When you register you will be asked for your name and email address. Your email address will not be shared with third parties (other than Ticket Tailor, the operators of this booking page) and will only be used to send you information about this event, seek feedback about it and to let you know about next year's BSBI Exhibition Meeting. 
This information is being requested to administer the event and BSBI will only hold the information to fulfil this purpose. Please see our Privacy Policy for further details of how your data will be handled and stored. You can request to see the data we hold, request its removal or update your contact preferences at any time by contacting us. To do so, email enquiries@bsbi.org.
The header image is of Allium carinatum, photographed by Chris Jeffree and entered into the 2020 BSBI Photographic Competition.