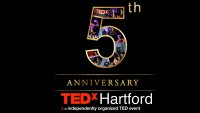 Please read this information before purchasing a ticket to TEDxHartford.

COVID-19 Vaccine and Masks Requirements:
The ever-changing landscape of this COVID 19 pandemic has certainly been a challenge for live events. We appreciate your patience and understanding as we have navigated this uncertain time.
With the continuing information emerging about COVID-19 and the Delta Variant, TEDxHartford is implementing many safety measures for the speakers, crew, and our guests while attending our event.
Guests will be required to show proof of full COVID-19 vaccination to attend this event in person.
Full vaccination means event day, December 5th 2021, is at least 14 days after your final vaccine dose.
Masks must be worn at all times when you enter the Hartford Marriott with the only exception being when eating and drinking. During those times, please be very aware and careful of anyone within six feet of you.

There are two 10-minute breaks during the program if you wish to exit outside for a mask break.
Speakers on stage and performers will be omitted from wearing a mask while performing. When not performing, masks must be worn.

Temperature checks will be taken at the registration table. Anyone with a temperature above 100.4 will not be permitted to enter.
If a guest is experiencing any of the following, we ask you please stay home.

A guest who has COVID-19 symptoms.
A guest who has a COVID-19 test result pending.
A guest who is under a healthcare provider's care for a positive COVID-19 test.
A guest who has been exposed to COVID-19 (unless fully vaccinated).

All tables in the ballroom are spaced out as much as possible with only six people per table.
TEDxHartford also follows guidelines from the State of Connecticut, City of Hartford, The Hartford Marriott, and the Centers for Disease Control and Prevention (CDC).
These are the guidelines in place as of September 1st 2021. These guidelines are subject to change as new information comes out or State/City/Venue guidelines evolve. All changes will be posted at tedxhartford.com.
We understand Covid-19 vaccinations and masks don't 100% guarantee your safety. Please make sure you are comfortable attending this event before purchasing a ticket.
We understand the guidelines put in place in order to attend our event may be frustrating, confusing, and disagreeable. Safety is our most important factor for this event. These guidelines are what we feel are best for everyone's safety. We are making the most comfortable decision possible during these challenging times.
The event will also be livestreamed here at tedxhartford.com.
Ticket can be refundable before November 1st 2021. Please email info@tedxhartford.com.