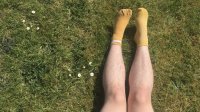 Conny can't get her garden to grow. She's tried everything and honestly? It's beginning to piss her off. On top of that, she's trying to navigate tricky love interests, frustrating doctor appointments, and a new career.
Oh. And she's also really hairy.
Conny Hancock presents a light-hearted one-woman show touching on her lived experience with having polycystic ovarian syndrome.
Nhair is a hilarious, empowering and brutally honest ode to self-love, exploring what it's like to not quite fit into the mould of the stereotypical woman. Expect laughs, cries and awful ukulele playing.
"Nhair is a joy to watch" ★★★★ Alexandra Ricou
Nhair contains some strong language
All tickets include a £1 admin charge

Approx running time 1 hour

All purchases for show at the Alma now have a suggested donation to the theatre and inhouse company of £2.00
You can remove this donation by changing the amount to £0.00, but please do consider offering your generosity to help us continue to offer great theatre at affordable prices.
The Alma Theatre has been serving the community for 25 years and has never been the recipient of ACE or other funding. Our theatre manager started maternity leave as the pandemic hit and as a result we missed all opportunities for additional arts council support. We have been offering reduced rates, preferential box office splits and extended promo support to aid the recovery from the past year and a half. Your help will enable us to continue bringing fantastic stories to your local theatre. 50% of your donation will go to the Alma Theatre, and 50% to our inhouse company, Schoolhouse Productions.