---
---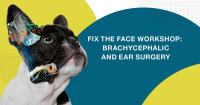 When is surgery indicated and which surgical technique is appropriate? Surgical conditions of the head and neck present a challenge to most veterinarians, yet more and more patients need this care due to the popularity of brachycephalic breeds. This workshop will help you improve your surgical techniques and is also a useful adjunct to preparations for membership examinations. Develop your skills in an intimate and supportive environment with specialist tutors and feel confident approaching these cases in practice.
Plus, we have everything your Nurse/Tech needs to know to help support the pre-op, intra-op and post-op management of your brachy patients. Within their own dedicated stream, your Nurse or Technician can benefit from practical hands-on training. Get to know the unique brachy anatomy and how to manage and adapt to challenging events with surgery, intubation, recovery and so much more. Enjoy a united approach to handling brachycephalic patients in your clinic after attending this workshop.

VetPrac, the whole experience!