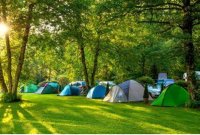 Assalamualaikum,

We are going camping, we are going camping, we are going to have fun!
Join NAMCC Family Camping weekend on the Halloween weekend. 
It is open to all NAMCC community members. 
Limited space [200 only].
Over 250 acres of land.
Come as family or come as family of families.
Lots of activities and halal food.

For all age groups.
5 years and under are on house.
Q and A:
1. May I know about the family accommodation?
Answer: There will be separate sleep areas for brothers and sisters. If a family needs a shared accommodation then please bring your own tent and you can stay as family.
2.  Why is the pricing for my 6 years old same as that of 12 years and above?
Answer: We have tried our best to get the best pricing with group discounts. We had the option to make the price of adults to $175 and kids to $125 but in that case it will turn out to be same or more for the family. Hence the price is same for all above 5 years old. Under 5 years old are FREE.
3. Will I get to choose between bunk bed or regular bed?
Answer: Yes it will be on first come basis to the campsite. 
Following options are available: 
Bunk Bed
Mattress on floor
Bring your own tent
4. What COVID19 related protocols will be followed?
Answer: Inshallah we will follow the same standard protocols that we follow else where including mask and social distancing and what the facility requires. Every one is highly encouraged to be vaccinated. We may ask for regular temperature checks as per the policy at the facility.

5. Please tell me about cancellation policy.
Answer: You can cancel the ticket up to 72 hours before the event. Past that only 25% will be returned. If at campsite you are asked to leave because of health concern, you will be returned prorated amount up to 50% max.



Q6. Do I need to bring my own bed set ?

Answer: It will be provided but bring your own blankets pillow and sheets for hygiene reasons
Q7. Are activities and food included in the price or need to pay extra ?

Answer: Yes everything is included in ticket price


NEW FAQS[Added - 10/12/2021]
Q8- What is the address of the Camp Buckner?
Address: 3835 FM2342, Burnet, TX 7861


Q9- When should I be there at the Camp Buckner on Friday, 29th October 2021?
The registration opens at 4PM, so anytime after 4PM is fine. But it is preferred that you come between 4 - 6


Q10- What time Registration starts?
The registration opens at 4PM.


Q11- How late can I be there on Friday?
It is preferred that you come between 4 – 6 but you are there before 9:30 that will be ok.


Q12- If I cannot make it on Friday, 29th October, can I join on Saturday?
Yes, you can join on Saturday.
Note:- No refund for Friday night


Q13- What is the check-in time?
The check-in time is 4PM


Q14- Can I do onsite registration?
If On-Line registration is Open then Yes. But we will still ask you to register via on-line portal

Q15- What is the list of supplies I should bring with me to the camp site?
Bedding:- Pillows, sheets, blanket.
Tent, if you want to camp outside.
All your belongings which you may need for personal use; Hygiene products, medicine(if you are taking any)


Q16- Can I get a bunk bed for me and my family together?
The bunk beds are only for sisters


Q17- Do I need to bring my sleeping bed with me? pillows? bed sheets?
Bring your bed only if you are sleeping in tent.
Pillows, bed-sheets – Yes, bring these either way.

Q18- Can I bring my pets to the camp site?
No, pets please.

Q19- What activities and games are scheduled during the camping?
Boating, Basketball, Volleyball, Bonfire, Halaqas, Jamaat Prayers, Swimming, etc.

Q20- Are the meals halal?
Yes, all meals are halal

Q21- Are the meals Zabiha Halal?
Yes, meals with meat are Zabiha Halal

Q22- Are the meals Handcut Zabiha halal?
Yes

Q23- What is the age limit for activities like boating and swimming?
No age limit for boating and swimming as long as accompanied by parents.


Q24- Are there showers at the camp site?
Yes, the buildings with bunk-beds have around 6 showers – This is only for sisters
The main hall has around 3 showers

Q25 - What is the checkout time?
The check-out time is 11AM


Some pictures from the campsite: