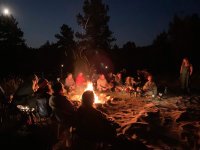 We are excited to bring you together in a magical shamanic healing cacao ceremony. The ceremony tradition has its roots in Central and South America. The Mayan and Aztec civilizations considered cacao sacred "Food of the Gods" or a "superfood" for its rich substances: antioxidants, minerals, and vitamins. It was allowed to be consumed only by the ruling classes and to be traded by way of money.
The ceremony is intended to open one's heart to each other and the cosmos. This specially made heirloom cacao drink–not hallucinating–is prepared using an indigenous formula, which allows us to share our heart stories, setting intentions for the future, expressing deep wishes and hidden prayers in our own authentic voice, and in a safe space. We will be visioning and journeying, singing, making music, and telling heart stories throughout the ceremony. 
During the ceremony you will be ask to lie down. Please bring your personal equipment to feel comfortable - yoga mat, blanket, cushion, eye cover etc. 
We hope you'll join us.
Please also have a look at the weekend workshop with Itzhak in the same venue. A combo ticket for workshop and cacao ceremony is available. 
https://buytickets.at/surbitonshamaniccircle/575917
About Itzhak
Itzhak Beery (www.itzhakbeery.com) is a leading shamanic teacher, healer, speaker, community activist, and author of three Amazon bestsellers books. He received 'Ambassador for Peace Award' from The Universal Peace Federation and the UN.

Since 1995, he bridges the spiritual and practical wisdom his indigenous teachers entrusted in him with a powerful contemporary approach relevant to our stressful and unbalanced modern times.
Itzhak apprenticed with Taita Don José Joaquin Pineda a well-known fifth-generation Ecuadorian Quechua Yachak (shaman) from the village of Iluman, who initiated him into the Sacred 24 Yachaks Circle of Imbabura. He was also initiated by Shoré, an Amazonian Kanamari Pajè (shaman) on the banks of the Rio Negro. Itzhak studied and assisted for 12 years with Ipupiara Makunaiman (Dr. Bernardo Peixoto) his Peruvian curandera wife. Additionally, Itzhak studied with elders and shamans in North and South America, Greenland, Siberia, and of his contemporary teachers are Michael Harner, John Perkins, Hank Wesselman, Lewis Mehl-Madrona, and Tom Cowan.
About Christian
Christian Thurow is a Shamanic Practitioner based in London. He is the editor of the ShamanPortal Quarterly Review and coordinator for the ShamanPortal Wisdom Webinar series. He studies with Itzhak Beery and other leading Shamanic teachers, mainly with Imelda Almqvist, Steven and Renata Ash and John Lockley.