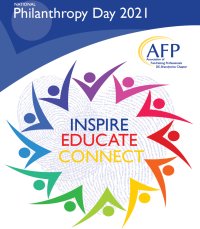 Join us for our 2021 National Philanthropy Day Virtual Conference! 
Now more than ever -- in today's challenging times -- fundraising professionals need inspiration, education, and connections. 
During our half-day virtual conference, we will:
Celebrate the winners of our annual Philanthropy and F.A.C.E. Awards.


Gain a deeper understand of fundraising in diverse communities with a panel of local experts, moderated by Jamee Boone.
Learn how to build messaging to create a movement from our keynote presenters Hannah Thomas and Ally Dommu of Big Duck.


Meet your local colleagues during facilitated networking breaks throughout the morning.

+++++++++++++++++++++++++++++++++++

Announcing our 2021 Philanthropy Award Winners!
(Judged by a panel of local community leaders)
Nonprofit of the Year: Friendship House
Special Recognition for Social Justice: ACLU Delaware
Fundraising Executive of the Year: Molly Giordano
And our F.A.C.E. Award Winners!
(Judged by the leadership and staff of Delaware Business Times)
Annual Appeal: Jewish Federation of Delaware
Annual Report: Delaware Prosperity Partnership
Branding: Jewish Federation of Delaware
Electronic: Delaware Prosperity Partnership
Newsletter: Jewish Federation of Delaware
Special Event: Jewish Federation of Delaware
Special Publication: Delaware Prosperity Partnership
Website: Jewish Federation of Delaware
Special Recognition: The WRK Group
+++++++++++++++++++++++++++++++++++

Panel Discussion: Fundraising in Diverse Communities
Moderated by AFP Brandywine IDEA Committee Chair Jamee Boone, this panel discussion brings together four nonprofit leaders who have demonstrated experience fundraising in diverse communities. The discussion will raise awareness of challenges and best practices for fundraising in diverse communities. Specific topics will include strategies to increase board diversification, barriers to fundraising in diverse communities, how fundraisers can lead DEI change within their organizations, and strategies for altering cultivation and solicitation activities for diverse donor groups. Participants will leave with a better understanding of the tactics used to fundraise among diverse communities, an appreciation for the complexities and cultural differences among diverse donor groups, and knowledge of the barriers that current fundraising practices perpetuate.


Panelists include respected Delaware leaders:
John Gardner, Executive Director, AIDS Delaware
Dr. Doris Griffin, Executive Director, Delaware Adolescent Program, Inc.

Maria Matos, President & CEO, Latin American Community Center
Katie Millard, Director of Development and Advocacy, Sussex County Habitat for Humanity 
Moderator: Jamee Boone, Eddee Boone Consulting LLC

++++++++++++++++++++++++++++++++++++
Keynote Presentation: We vs. Me: Building Messaging for a Movement

In the face of several crises and moments of reckoning, more and more nonprofit organizations are beginning to band together in service of movements that benefit the collective sector and the larger world. Approaching movement messaging—the language that unites and is utilized by many voices and agendas—is complex and multifaceted, but telling the right story can be a game-changer that inspires allegiance, participation, and large-scale impact. This session, led by Hannah Thomas and Ally Dommu of Big Duck, will serve as a guide for communicating about "we" rather than "me" in service of movement building.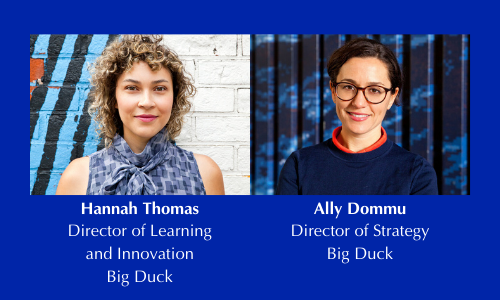 Hannah Thomas orchestrates Big Duck's learning and experimentation. She pushes the agency to evolve and grow and explores new avenues for providing value to our clients and the sector. She loves searching out imaginative solutions for nonprofits to adapt as they navigate change and opportunity. 
Some recent clients she's proud to have collaborated with include the Ms. Foundation for Women, The Intrepid Museum, The Apollo Theater, Prosperity Now, and Pasa Sustainable Agriculture. Select internal projects she's led include the creation of the company's first DEI and antiracist plan and a report digging into the harm embedded in fundraising communications best practices. She also loves a good conference and has been a speaker at NTEN's Nonprofit Technology Conference, Association of Fundraising Professionals NYC chapter's PhilanthroCon, and Welcoming America's Welcoming Initiative. Before Big Duck, Hannah graduated from Columbia University. She studied film and the power movies have to reflect and shape identity and culture. During her first few years after college, she worked at the Brooklyn Academy of Music and Film at Lincoln Center in marketing and PR roles. While there, she championed meaningful representation and inclusivity on screens and in seats, honing strong communications skills in order to do so.
Outside work, Hannah may be found exploring her new home city of Seattle with her fiance–roller skating, getting up to speed on the food scene, and catching movies at any number of wonderful little and big theaters across the city. Equally likely, she's holed up at home obsessively, singularly focused on a puzzle.
Ally Dommu applies her commitment to social justice, communications and fundraising expertise, and deep knowledge of the nonprofit sector to her partnerships with Big Duck's clients. She leads a team of strategists who conduct research, facilitate group discussions, and create tailored mission-driven communications strategies. Prior to joining the Big Duck team in 2013, Ally worked at Sanctuary for Families in New York City, where she managed communications and fundraising efforts to advance safety and justice for survivors of domestic violence, sex trafficking and related forms of gender violence. 
Her experience working in the nonprofit world and passion for progressive causes inspired Ally to pursue her Master's in Nonprofit Management from The New School, where she was a co-founder of a project-based social innovation initiative, and the recipient of the Dean's Award. Ally is also a graduate of Emory University.
When she's not at Big Duck, you'll find Ally camping in the woods with her wife and son, playing Mahjong with family to keep the Jewish tradition alive, and coaching rec soccer.
+++++++++++++++++++++++++++++++++++++++++++++++++++++++++++++++++++
Approved for 2.0 CFRE Education Points
+++++++++++++++++++++++++++++++++++++++++++++++++++++++++++++++++++
For information on scholarships to attend National Philanthropy Day,
click here.
+++++++++++++++++++++++++++++++++++++++++++++++++++++++++++++++++++