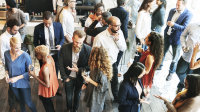 A Live, Virtual & Recorded Conference with Tax Attorney, John Hyre

Come see why prior attendees keep coming back to this conference year after year. Each year we pick new topics & enhance prior topics that provide practical solutions for investors and business owners. This year promises to be better than ever. We have even invited special guest experts to cover some advanced concepts.
Here are just a few of the topics we plan to cover in detail:
Washington Update

of changes, opportunities, and planning in the tax law (probably the 800-lb gorilla this year; it may expand to include much of the conference time)

Estate Planning Techniques for Real Estate

Preparing for 2025 Trump tax law sunset provisions

Net Present Value of Using a C. Corp Under Today's New 21% (25%?) Tax Structure

Parking lots, self-storage, commercial property and UBIT

Charitable Giving from Traditional IRA

Uses of Charitable Remainder Trusts

Rent Control/Local Gov't Pension Deficits and Where to (Not) Invest

A Litigator's Take on Asset Protection

The Newest Law on LLC Piercing & Charging Orders

New Federal Entity Disclosure Requirements

Health Reimbursement Account Tricks

…and much more is being planned!
Note: Investors from across the country repeatedly attend this annual event for the insightful information. Come meet other investors like yourself and learn from their experience and insights.
And remember, one-third of the wealth you produce will go to taxes . . . unless you take a proactive role in controlling how much you pay. We will cover practical, everyday techniques you can use to bulletproof your assets as well as advanced strategies for use when you are ready.
Note: We are serving lunch both days and there is a room block. In the event of an enforced reduction in class-size due to Covid, we operate under "first registered, last booted" rules. In other words, if we need to decrease the size of the in-person class, the last ones to sign up will be the first ones stricken from the list (with a refund or attendance via the live & recorded streaming). Don't miss the live networking, sign up now!
Join the other informed investors that attend each year to arm themselves with the latest tactics and strategies to earn more, keep more, and protect what you have!
Single Attendee…...$647 Two humans for …. $597
PS: No one will have as rad a hairdo as the blond-beard guy in the picture.


FAQs
1. Is the event being recorded?
Yes, it is being recorded for all. Both for Online and In-Person attendees.
2. Can I also ask questions if I attend from home? (online)
Yes. You will be able to ask questions live as if you were there via Zoom. Subject to you not pulling a Jeff Toobin. We ain't CNN.

3. Is there a Hotel Room Block?

Yes. You will get the link for the hotel room block once you purchase your ticket.

4. Can I change the ticket to Online if I can't make it in person? and vice-versa?

Generally yes you can. However, changing from Online to In-Person is subject to space availability.