---
---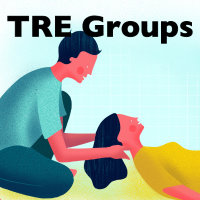 TRE Group Supervision Online
Title: Supervision Group for Certified TRE Providers and Trainees
Trainer: Steve Haines
Cost: £35 Full Price
Group shake followed by discussion on all things TRE for Certified TRE Providers and Trainees. The goal is a creative space to explore TRE theory and practice. The sessions can form part of your Certification Process (NB please agree first with your TRE Mentor, see below)
Possible Format
Check in on learning progress during all stages of the Certification Process
Group shake led by Steve
Discussion of theory relevant to TRE

Demo sessions led by Steve 
Learning from other Certified TRE Provider Trainees
Exploring personal process in response to self practice of TRE 
Exploring learning edges when teaching individuals and groups
50/50 group shake, half the group watches, the other half shake and then vice versa  
Who can attend?
Certified TRE Provider Trainees with TRE College
Certified TRE Provider Trainees training on another accredited TRE for All, Inc course
Certified TRE Providers
Collect partial supervision credits to complement TRE Certification face-to-face supervision sessions 
Assisting on TRE open groups, attending supervision groups or workshops run by TRE Mentors can contribute to supervision credits. 
Partial credits (typically 1/4 Credit, 1/3 Credit, 1/2 Credit) are awarded, for example, after attending a supervision group, assisting on an open group or attending a workshop run by a TRE Mentor.
A maximum of 4 face-to-face supervisions sessions can be replaced by collecting partial credits.
All credits need to be agreed beforehand with the TRE Mentor. Credits are at the discretion of the TRE Mentor in agreement with the Primary Certification Trainer. 
Open groups and supervision groups, but not workshops, can be used as credits if run by TRE Mentor Trainees.
General Information

To become a Certified TRE® Provider there is a structured certification program that takes 10 to 24 months. All work can be completed online. The key elements are three 2 day online workshops (Modules 1, 2 and 3), a significant supervision process and self practice. The course is fully accredited by TRE for All, Inc: https://traumaprevention.com/
For full details of TRE College courses check: https://trecollege.com/certification/