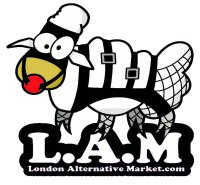 LAMv2 #20 - Leadenhall Sunday 3rd July ~ London Pride weekend
Back for another month of the finest Kink+ shopping, social and education on offer in the heart of the kinkiest city in the world. The bar will be by card payment only but some stalls continue to take cash or cards and its cards or tickets on the door. Please ensure that you have all of your documents ready for Mistress Absolute to inspect (she does not like to be kept waiting).
LAM is the perfect place to shop, socialise and enhance your skills and understanding in a Kink+ environment, whether your along to pick up supplies, catch up with friends, make new ones or what to immerse yourself in the workshops and educational material since 2006 its been the worlds longest running community focused market and after party.
As its Pride weekend we have some additional surprises including something for the 1st, 50th and 100th guest through the door on the day and we will be giving the commemorative Pride 50th anniversary 50p as a prize.  We will also have a colourized version of the coin for the best dressed guest at 5:15 pm.  LAM has always been the perfect place to round off your London Pride weekend and this years we looking forward to re-starting the party.
Spread over three and a half floors (the mezzanine dining area is the only non-accessible part of the venue) we host a range of kink traders from clothes and toys to books and furniture with the majority of traders specialising in custom work in a comfortable and clean environment. There is ample socialising space within the venue and the LAMnet wifi network will give you access to the workshops if there is not space in the workshop room.
This month we are joined by @TrueBeast and @Echo_of_Beast ~ 2022 International Master & slave who will be sharing two workshops in the vault as guest presenters while they visit the UK.
The schedule for the day is:
12pm ~ Doors open
1pm ~ Newbie orientation
2pm ~ Healthy Mental Practices replacement with @Cosmic1standing in for @TheKinkShrink
3pm ~ @TrueBeast and @Echo_of_Beast - Leather culture and history from a US perspective
4pm ~ @TrueBeast and @Echo_of_Beast - NeuroConvergent - Creating Harmony in Your Dynamic from the Discord of Mental Health Challenges
5:30 ~ Auction for Miss Cameo's benefit CP implements and corsets 
6pm ~ Market closes
7pm ~ After Party Starts and sub basement bar will be open
Workshop are seated on a first come first seated basis, there is often a que for the Healthy Mental Practices sessions which starts about 10 minutes before the workshop starts. If you are unable to get a seat please join via the LiveStream or catch up later via the YouTube archive.
Speakers Bio's
Born in Germany to German and Lakota parents, Beast (He/Him) is a pansexual, polyamorous Leatherman, a Master, a teacher, and a student. Among his many interests, Beast is a rigger, ropemaker, pyromancer, biker, bodybuilder, musician, and Cigar enthusiast. He is the Head of the Leather House Maison de Beast, an event producer, live cast host, an impassioned educator, and ardent community volunteer.
echo (she/they) was born and raised in England and has been here in the U.S. for just over 8 years. She's a pansexual, polyamorous Leatherwoman, a slave, switch, event producer, community organizer, and a fucker of minds. echo recently became a parent to Wicket and Cricket the sugar gliders and spends much of her spare time crocheting. She is passionate about mindset, relationship skills, and sociocultural theory.
Beast and echo are honored to represent the International Master/slave Title for 2022! The Southwest region as 2021 Southwest Master/slave and Colorado Master/slave 2019 - 21. Together with their partner Liv, they are raising 3 children in beautiful Colorado. While they love safely connecting with others in-person whenever possible, during this pandemic they are thrilled to have found ways to connect with kinky, Leather, and M/s folks around the world through online conferences, classes, and other virtual points of connection. They enjoy sharing with and learning from others and have found a storytelling style that allows them to share their triumphs and mistakes with honesty, transparency, and humor.
Class Descriptions
Star-Spangled Leather and The International M/s Title
An Exploration and US Leather History and The International M/s Contest
Beast and echo will share their knowledge of Leather history from the US perspective, key moments, and the impact it had on them and the creation of their Leather House. They will also dive into the process and life-changing experience of running for and winning the International M/s Title, they hope to encourage more interest in the international representation of the title.
NeuroConvergent
Creating Harmony in Your Dynamic from the Discord of Mental Health Challenges
Those of us who live with our own mental health challenges are often labeled neurodivergent – meaning we process and respond to situations and information in ways that differ from the "norm". For many of us, this divergence can create significant barriers to intimacy and our ability to connect to one another. In this class, Beast and Echo will talk about the way these barriers have impacted their relationship, and the tools and strategies they've developed that allow two neurodivergent individuals to create a NeuroConvergent dynamic.
The event is Kink+ and open to anyone who accepts the positive role that kink plays in our lives and those who want to engage to create positive and welcoming communities. We ask all guests to watch the newbie guest orientation material on our website and to follow the clearly posted signs while attending the event. If it's your first event please come to the 1pm orientation to get the most out of the day and meet others in the same place on their adventures.

At the end of the daytime event we clear out the stalls and convert the venue into a multi zoned play party. The lowest floor accommodates two play areas, one roped off and the other less supervised. Bondage has the priority in the vault where the setting adds to the atmosphere and creates some amazing memories as the thick walls help to hold a unique atmospheric play space.
There is no dress code for LAM events and streetwear is perfectly acceptable although alternative and fetish is always encouraged. Due to the licensing, nudity, exposed female nipples or sexual acts are not permitted. There is no pressure to play at the event and its perfectly acceptable to watch. The priority in the play areas is to those who are playing and crew are always on hand to answer and questions to have or to provide you with support if needed.
Wristbands are available to denote you contact preferences but please do take the time to ask people even if you have not already had those conversations between each other, things can change from day to day. The crew and volunteers are on hand to help you should you need assistance or clarification and the front desk always has someone who can help you if needed.
Further information can be found on our website including full event details including the very detailed and transparent policies and procedures which explain how we work as an event team. Tickets are cheaper in advance of the day and become more expensive on the day of the event to ensure we have someone on standby to deal with those last minute questions.
Covid regulations
Sanitation stations are present throughout the event which guests, crew and traders are encouraged to use. The crew and traders will have all tested with lateral flow test kits on the morning of the event, we encourage others to do the same now that the kits are more widely available.
We would politely remind everyone that there are clear rules and procedures to this event and that disruptive behaviour which spoils the enjoyment of others is never tolerated, especially when directed towards the staff. Failure to respect the space for others or to disrupt the event is never tolerated.
We look forward to welcoming you back to LAM events.
David