---
---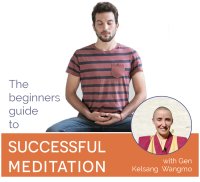 A COMPLETE GUIDE TO MEDITATION - 3 week course
The aim of this course is to help people new to meditation to get off to a good start. If we get the basics clear at the beginning we can make good progress and become proficient meditators within a short time. But if we don't get the fundamentals in place we can meditate for years and make little progress.
This course will introduce the essential ingredients of effective meditation and provide an opportunity to practise our skills in a variety of easy-to-follow guided meditations. We will gain some experience of different ways to meditate – breathing meditation, meditation with visualisation, meditation on our mind and meditation using reasoning.

Please note: This event is live streamed only. Sessions are only available at the scheduled time and will not be available afterwards.
Before you book! 
Find out more about our membership scheme here https://meditateinedinburgh.or...