---
---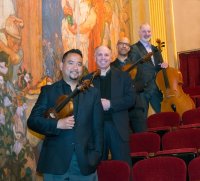 Berkeley Chamber Performances is excited to welcome the Alexander String Quartet back to our series on Tuesday, October 19, 2021 at the Berkeley City Club. The concert will be followed by a Question & Answer session with the performers. 
For those who are not comfortable attending an in-person concert at this time, we are also offering a virtual option for you to view the concert online at a time of your convenience between October 29 through November 12. 
PROGRAM:
Haydn: String Quartet in C major, Op. 54, No. 2
Cindy Cox: Patagón
Brahms: String Quartet in B-flat major, Op. 67

COVID-19 PRECAUTIONS AT THE BERKELEY CHAMBER PERFORMANCES: 
All in-person audience members will be required to present a photo ID and proof of vaccination, as well as remaining masked the entire time they are at the Berkeley City Club.
Groups of ticket holders will be separated from other groups. For instance, if you purchase three tickets, you will be ushered to a pre-arranged seating group of three seats that is distanced from other groups of seats.
No refreshments will be served. 
We look forward to seeing you soon!