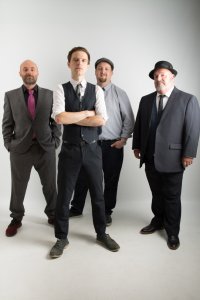 The return of live music at the club continues, as we welcome back brilliant harmonica man Liam Ward and his band.
The Liam Ward Band bring you award-winning Chicago R&B guaranteed to banish your blues!
Get your mojo working with the epic harp-driven sounds of the 1950s and '60s!
With one foot firmly in the past, the South Wales-based four-piece are looking to the future too. The Liam Ward Band are known for originals that push blues boundaries, bringing you some of
the freshest British blues in the country.
Liam Ward is a
National Harmonica League Player of the Year and one of the UK's most revered harmonicists.
The rest of the band comprises stalwarts of the British blues scene. On guitar, respected jazzman Matt Jones (The Square Pegs, Django Chutney), Pembrokeshire favourite Martin Hill on bass (Empty Pockets, Final Demand), and sought-after drum ace Gareth Davies (Only Us, The Distributors). The Liam Ward Band will turn your venue into a juke joint and are guaranteed to banish your blues!
"Great harp playing - I learned something!" - Paul Jones, BBC Radio 2
"Shining harp, swings warmly" - Blues Blast (Chicago, USA)
"He plays beautifully!" - John Sebastian (The Lovin' Spoonful)
"His playing is a joy" - Blues Matters
"Tremendous... splendid, wistful" - The Blues & Soul Show
"Breathtaking" - Community Index
"The best harmonica player in Britain" - Elias T. Hoth
"Good harp!" - David Crosby