---
---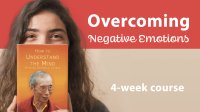 Getting the Upper Hand
Saying "No" to negative emotions
None of us ever choose to have painful feelings. If we could, we would never have them. Instead they just barge into our mind, destroy our peace and happiness, bully and intimidate us, and try to overwhelm us. That's because they think we don't have a choice – and usually neither do we!
This course aims to give us choice. It will help us to get the better of our negative feelings. We can learn where they come from and how to reduce and abandon them. By responding differently to our negative emotions we can divert our energy to happier, more positive and rewarding states of mind.
Please note: This event is live streamed only. Sessions are only available at the scheduled time and will not be available afterwards.