---
---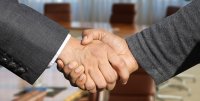 Dates

5th & 6th October 2022

10.00am - 4.30pm

Location

online using Zoom

Cost

£480 + VAT  




No refunds can be given for cancellations less than 4 weeks in advance
10% discount of Perthshire Chamber members. If your place is being funded by your employer please select "invoice my employer" at checkout.
Who is the course for?
The Rowan Mediation Skills training is for people who would like to develop their mediation skills.

You will gain knowledge and skills to help you resolve conflicts at an early stage

You will learn how to facilitate the two disputants to create their own mutually agreed win-win solution
The 2008 Employment Act and ACAS code recommend mediation for early dispute resolution. Organisations need staff with mediation skills to help prevent disputes escalating. It is more cost-effective to invest in mediation than in expensive grievance, disciplinary procedures or industrial tribunals.

Trainers
The course is delivered by Rachel Weiss, an experienced mediator and trainer. Rachel is an active member of the Scottish Mediation Network and is on the Scottish Mediation Register. Each training group consists of 6- 12 participants so that all can participate in the skills practice and gain feedback on their skills.
Course Content
What is conflict?

De-escalating behaviours

Basics of conflict management

Thomas-Kilmann conflict styles

How mediation differs from other forms of dispute resolution

Introduction of brief mediation model, view DVD of mediation

Practice using brief model

Skills practice for stages of mediation - reframing inflammatory language, identifying the issue, eliciting win-win solutions, confirming the agreement. 

Benefits of mediation, when is mediation appropriate? 

How will I put this into practice in the workplace?
Register Now
If you are interested in developing your mediation skills, book now. Give Rowan a call today on 01738 562 005 to speak to one of the trainers, or email us through our website contact form.