---
---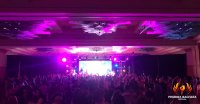 📣 IMPORTANT PBF ANNOUNCEMENT! 📣​
​We are announcing our Salsa Bachata Mastery Phoenix Weekender which is confirmed to take place this year from September 8-12, 2022 with amazing WORLD RENOWNED SUPER 💫 STAR TALENT! This will take place instead of our 🔥 4th Annual Phoenix Bachata Festival. ​ ​
​We will continue the 4th Annual Phoenix Bachata Festival September 7-11, 2023 (YESSSS! 🙌).  We considered the lingering affects of 2020-21 lockdowns & decided we want to continue providing the FULL PBF experience you've grown to love and that we are committed to delivering as a premium experience at an affordable price to attendees! ♥️​
​PBF2022 tickets purchased prior to 6/18/2022 may be used for our @Salsa Bachata Mastery Phoenix Weekender (oh yeah! We got you!😎).​
​Unused PBF22 tickets will be automatically transferred to our 2023 festival. ​ Thank you for your continued support and patronage as we continue to plan our 4th edition for 2023. ​ Rest assured, it will be absolutely unforgettable!​
You can get event details and purchase tickets for Salsa Bachata Mastery: Phoenix here: 
http://salsabachatamastery.com/
More details for PBF23 coming soon!
#NextLevelBachataFestival
Refund Policy: 2022 & 2023 tickets are non-refundable.  They are fully transferable with no fee until the start date of the event.