---
---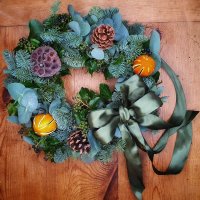 At Castlemas come and create a beautiful bespoke festive wreath for your home with Lucie from The Bloom Foundry winner of The Best Florist in Kent 2021.
In your wreath workshop Lucie will guide you through the different practical stages used behind each successful wreath.
It is a fun and relaxing experience, everyone loves starting off with all the raw materials and ending up with a unique and beautiful wreath.
You will start by making your own mossed base, then you'll add scented seasonal foliage, finally finishing off with the crowning glory of natural decorations of dried fruit, cinnamon and pine cones.
You will be supplied with everything that you need to make your wreath including a wreath ring, moss, wire, foliage, natural decorations and satin ribbon.