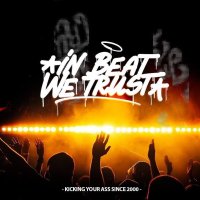 GMF EVENTS Proudly Presents:
IN BEAT WE TRUST
@ Skylounge on top of the Amway Arena
Friday, December 10th!
Exclusive VIP Style event overlooking the City Beautiful!
VIP Table/Bottle Service available. First purchase Regular Ticket, then go to: https://www.skyloungeamway.com/reservations/
Or call: 888-913-0180
LIMITED tickets are available!
For the 1st time back in Florida in over 4 years: LADY WAKS - FREESTYLERS - LEFT/RIGHT!
LADY WAKS
Hailing from St. Petersburg, Russia, Lady Waks began her rise at the age of 17 as a host on her home country's largest dance radio station, which today reaches millions of people in more than 50 countries. Over two decades she has built a reputation as Russia's most internationally influential and recognized DJ and producer, amassing a large and loyal fanbase with regular tours across Europe, the US, Asia, Australia, and New Zealand.
Lady Waks has won many of the industry's biggest global awards, beating out the likes of Skrillex, Stanton Warriors, Prodigy, Noisia, Krafty Kuts, and A-Skillz to win the prestigious title of Best DJ at Breakspoll three times (twice in a row), and is also a three-time winner of the International Breaks Awards' Best DJ honor. She is the only woman ever to win Breakspoll and IBA awards over consecutive years.
As a creator of original music and a tastemaker who uncovers and avidly promotes new talent, Lady Waks knows what audiences crave and how to deliver it. She is continuously influencing the bass scene and thrives when collaborating with other artists, having worked alongside the Prodigy, Busta Rhymes, and The Freestylers to name a few – the latter noting Lady Waks inspired their latest big album 'Other Worlds'.
Earlier in her career, Lady Waks gained world fame with her 2007 track "Minimal," with vocals by Afrika Islam, which was released through the London-based label Menu Music and nominated for Best Single at Breakspoll in 2007, and continued to receive nominations in the following years including runner-up for Best Track at Breakspoll 2013 with "Shock Out" (Lady Waks, Marten Horger & Nu Jam). In 2017, Lady Waks reinvigorated her own creative output, focusing on the kick-ass and connective energy that drum and bass generates between herself and her audiences. 2019 saw Lady Waks create the music, video, and launch of "Jungliest Track" (Lady Waks, Deekline, Freestylers, ft. Steppa Style & Tenor Youthman). Her music has received millions of listens and views across SoundCloud and Youtube.
Lady Waks is also a pioneer in the bass party scene. In 2000 she made waves in Russia by creating In Beat We Trust (IBWT), an events company that both showcased her own fierce talent and welcomed international artists to perform alongside her. Lady Waks has led IBWT through 20 successful years of innovative and high-powered events, hosting artists such as The Crystal Method, Stanton Warriors, Krafty Kuts, Leeroy Thornhill, and Westbam.
Lady Waks has DJed everywhere from Love Parade in Berlin to top clubs like Fabri in London and ruled the stage at festivals from Glastonbury to May Day.
She has featured in prestigious publications including DJ Mag, DJ Times, and EDM.com, and is a brand ambassador for UDG Gear alongside Fatboy Slim, Tiesto, Carl Cox, and others.
With sharp insight into the industry and a lifelong passion for bass, there's no stopping the artistic dynamism that defines Lady Waks. #FromRussiaWithBass
FREESTYLERS
After a 20 year career, the Freestylers have covered a full 360 degrees in the Bass Music genre, having played all the biggest festivals, the most talked-about Nightclubs around the World, and even the quintessentially British music show, Top Of The Pops. Having achieved the kind of success most artists can only dream of, they've not rested on their laurels.
Aston and Matt started working on Music together in the mid-'90s after discovering a multitude of Hip-Hop, Electro, and Beats. They released their first two Albums 'We Rock Hard' and 'Pressure Point', on the legendary Breakbeat label Freskanova. 'Raw as F**K' and 'Adventures InFreestyle" were released on 'Against The Grain', another Breakbeat power house, based out of Brighton, UK. From being voted 'Best Band' by Muzik Magazine in '98, to touring with Lenny Kravitz on his American Woman Tour (he asked them himself as he was so impressed with their act), rocking a crowd of 30,000 at Glastonbury Festival '99, performing at MTV's Times SquareMillennium Party, playing Big Day Out '05 – it's fair to say these guys have had one big adventure so far.
The Freestylers began their career as an Urban Electronic Music Act, and their early Tunes 'B-BoyStance,'' 'Rufneck' and 'Warning' set the marker. As their music progressed so did their anthems with the seminal tunes 'Punks', 'Boom Blast', 'Fasten your seat-Belts', "Painkiller" and more recently 'Cracks', to list a few.
In addition to their status as Underground Heroes, they have gained commercial success with their Global Hit 'Push Up' and have had their Music synched in many TV Commercials and Films, including the hugely successful Comedies, Zoolander, Hey DudeWhere's My Car, and the more recent Sisters.
Their ever eclectic style and renegade approach to production focuses on everything in the bass music Spectrum and was on the show with their 5thStudio Album 'The Coming Storm'.The current single "Spread Love" has been crossing boundaries with its Bassline House/Breaks hybrid sound and soon-to-follow-up Hypnotic Eyez and new EP Club Tracks Vol IV have been designed for maximum dancefloor devastation!
LEFT / RIGHT
Left/Right is an enigmatic figure of many hats: composer, producer, teacher, visual artist, and performer. His music has been featured in DJ Mag, Mixmag, UKF, Dancing Astronaut and garnered support from Deadmau5, Claude VonStroke, Jauz, BBC Radio 1, Rinse FM, and countless others. He has released on Mau5trap, Confession, In/Rotation, and Punks as well as his own imprint BRØKEN and has been featured in ads by Nike, UFC, EA Sports, and Urban Decay.
With degrees in both music composition and audio engineering, L/R loves to create both musically and visually. His tunes and dj mixes feature a spectrum of sounds that drive his energetic performances and introspective mixes. Left/Right is regularly booked coast to coast and internationally to move dance floors - including sets at Glastonbury, Beyond Wonderland, Shambhala, Burning Man, Lightning In A Bottle, SXSW, WMC, and his resident CONDUIT events.
ALSO FEATURING ORLANDO FAVORITES:
AUDIOTRAP
JASON BROWN
HEATHER COLLINS
MATRIX

EFOCUS
JME RECSTAR
7 PM - 2:30 AM
Rooftop Vibes on top of downtown Orlando's AMWAY Arena!
VIP Bottle Service available.
GMF EVENTS 2021!
*Lady Waks has been booked and secured by GMF, and other promoters on her US tour. Since then, however, US-Russian relations have strained, creating an unpredictable environment for Visa statuses. Neither she, her management, or any of the US tour promoters can predict or control what happens. We expect all will go well, but if anything occurs, we will immediately reschedule and announce her new date, which we will keep a secured retainer, and discounts to that show will be provided to all ticket holders from this event. *