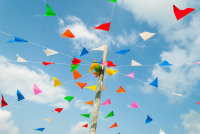 Save the date! Metaphorum, the global online festival celebrating Clean Language and its ever-increasing variety of applications, will be back on 3 December 2021.

Expect to learn new ways of self-organizing online, as well as discovering new perspectives on:
the work of David Grove
Clean Language, Clean Space, and Emergent Knowledge
Symbolic Modelling, Systemic Modelling, or Hypnosis Without Trance
applying any or all of these in 'real life.'
You'll encounter leading figures from the Clean space such as Penny Tompkins & James Lawley, Caitlin Walker, Marian Way, Judy Rees, Annemeik Van Helsdingen, and myself, Sharon Small.
There will be a rich mixture of fellow explorers from around the globe: coaches and trainers, hypnotists and Agilists, teachers, artists, facilitators, managers, performers ... 
Together we'll co-create a thrilling event featuring deep dives of personal and professional development, light-touch ways to use Clean in everyday contexts, and all points in-between.
Places will be strictly limited and tickets will sell out, so book yours early, and clear your calendar.
NOTE: Most attendees will have at least some practical experience of using Clean. This is not a taster, nor an event to sell people the idea of Clean. Beginners are welcome, as long as you are OK with sometimes feeling out of your depth. 
The event will run approximately 13 hours, from about 9 am to 10 pm UK time. There will be breaks! And of course, you are not obliged to participate in the whole thing! The lengthy span is designed to make sure people from all around the world can join for at least part of the event. 
Some sessions may be recorded, but this is not guaranteed: please plan to attend live and participate actively for at least part of the day.
We'll use a variety of tools to connect, but Zoom video calling will be the main one. You'll need a reasonable internet connection, a headset, and webcam, and a quiet place to call in from.
The main language of the event will be English. We expect that there will be some sessions in French. Using the Open Space format you are welcome to propose sessions in other languages too. 
Testimonials: 
"And what a wonderful experience Metaphorum was. Great thanks and applause for the organisers!"  ~ Ronald van Oosten
"Wow, what an amazing day yesterday. It was great to connect to new old old friends. It inspired me to make a politics video and I am now itching to declutter following the memorabilia session with Andrea Chiou."  ~ Brian Birch
"What a feast of Clean treats. As ever, it was rich with connection, learning, and fun. Here's to the next one, Metaphorum 2021."  ~ Jackie Lawlor
"It was fantastic! Thanks to all that contributed by being there, presenting, extending, preparing, supporting ... " ~ Irene Kuhn
"A very special Metaphorum Magic! co-created at such an important time for such valuable connection, curiosity, and collaboration! Much appreciated." ~ Anne Munro Kua
"It was delightful and resonated beyond dreams ... " Claudia Renchy Morton
And if you like videos.. here are three lovely clips from Youtube:
"Attending the annual Metaphorum is like being at a Clean language festival. There's one huge tent with multiple booths. Festival-goers decide either in advance or at the Metaphorum itself, just how they will show up in the tent. 
Different Clean leaders and practitioners bring different offerings into the tent. Sometimes, it's a new idea. Sometimes, it's an old idea for new people. Sometimes, it's a discussion. Sometimes, it's an opportunity to experience a Clean process. Everyone gets what they want from this self-organising event. 
And along the way, you'll reconnect with old friends and make new ones. And then leave with a rich experience of Clean and its immense potential for self and organisational development."  ~ Jacqueline Ann Surin, Drama@Work Consultant, Malaysia
Ticketing Info:
Early bird tickets are available until 15 October 2021, unless otherwise sold out
Standard tickets are available until 30 November 2021, unless otherwise sold out
Supporting Member tickets are available until 30 November 2021, unless otherwise sold out. 
Pay-it forward options: 
Supporting member tickets are for those who have the financial ability to contribute more and help provide complimentary attendance for those who may have difficulty paying due to financial hardship. In the past, if you have purchased multiple seats as a way of supporting the Metaphorum, we invite you to become a supporting member this year instead. 
We have also created a donation option where you may contribute smaller amounts. All donation amounts are welcome. 
If you are visiting this page and there is no ticket availability, please contact the event organizer using the button below. 
We look forward to having you with us at this upcoming Metaphorum - 3 December 2021